One of the advantages of living in a country where everything is new and different is that you can get to cook and taste some foodstuffs that you have never seen before.A trip to the mall is the most interesting pass time for me.Each time I visit the grocery section I am in for a surprise ingredient / product.
One day while shopping,a pack of black noodles caught my attention and I was curious to see what it .Listed on the ingredients was 'Forbidden rice' !I had already used forbidden rice to prepare a pudding and I loved the indigo color it imparted to the dish.So without a second thought I picked it up and promptly kept it in my pantry.This has happened before too.The previous time I noticed a different variety of noodles , turned out to be 'Buckwheat noodles' .It was the first time I cooked them and I made it with all the veggies and and we loved it.[If you are wondering what I made,its a simple Buckwheat noodles with veggies dish].
So,it was one of those days when the diet conscious me was searching for a creative recipe for lunch.All I found was a pack of forgotten forbidden rice noodle and some vegetables.It was also the miserable winter when I hated the thought of entering the kitchen to cook for myself,yet I was not in a mood to eat the lunch I had already cooked[I am weird!!].So the only thing to be done was cook something nice and warm in the microwave!!!.Thus was born this dish.
The pack has 6 small 'cakes' of noodles,I used 1 piece.This was more than sufficient for me as I had also added vegetables.
I used:
Forbidden rice noodles – 1 no.
Mixed vegetables – Carrot,peas,beans,potato,corn-1/2 a cup
Tomato-1,chopped
Bean sprouts-a handful
Ginger ,garlic ,grated-1/2 teaspoon each
Seasoning cube-1
Pepper powder to taste
In a microwave proof bowl put in the noodles and enough water to submerge the noodles.Cook covered on high for 4 minutes or till almost done.Drain and keep aside.
In the same bowl cook the vegetables with enough water for 8 minutes or till 90% done.Keep aside.Do not drain the remaining water.
Take tomato,ginger and garlic in a large / wide microwave proof bowl and mix.Cook for 1 minutes on medium powder .
To this add the vegetables [with the cooked water],noodles,seasoning cubes,around 1/2 a cup water[depending on ur choice of consistency of the soup] stir,microwave uncovered for 4 minutes on medium.[The vegetables and noodles will be fully cooked now.]
Put in the bean sprouts and microwave on medium for 1 minute.
Sprinkle pepper powder and serve.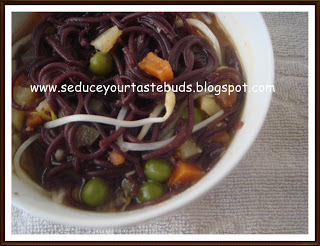 A delicious soupy meal with silky noodles,nutritious vegetables and
crunchy beansprouts is ready to indulge in.
Note:
Use a large bowl to prevent bubbling over.
Increase or decrease the vegetables to suit your taste
I did not add extra salt as the taste from seasoning cube was just right.
I used the remaining noodles in almost the same way as I found it very convenient when cooking for myself.I just make some minor changes in the ingredients and each time its like cooking and tasting something new!!!
This soupy noodles joins MEC-Favorites, 365 days of microwave cooking – both events started by Srivalli of Cooking for all seasons.
Bon Appetit…