Our symbol of Love is gaining more and more popularity in terms of disease and disease management with rise in heart disease and heart attacks.Recently I read in a magazine that in India,heart attack is becoming common in people under 30 years!!Its truly alarming isn't it?
With the change in life style,stress,less physical activity,drinking and smoking habits more and more people of the younger generation are falling prey to heart diseases.On the brighter side,thanks to the awareness created by the media,people are turning to healthier living.One way to protect ourselves is to cook healthy.I came across a long forgotten book on my bookshelf and it was titled 'Healthy Heart Cookbook'.
I am sure there is no one around here who hasn't heard the name 'Tarla Dalal'.She has authored several cookbook and has a series on Healthy eating titled 'Total Health Series'.
The 11th book in this series is the 'Healthy Heart Cookbook' which has low fat and low cholesterol recipes.This book has a lot of Indian and international cuisine that use very little oil and very innovative too.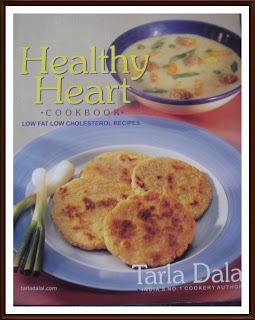 The book opens with a wealth of information on
How our heart functions
Causes of heart diseases
Fat facts
Eating smart for a healthy heart
Then comes the recipes categorized into a menu format with
8 Breakfast dishes
8 Soups
8 Starters -n-Snacks
7 Accompaniments
8 Salads-n Raitas
7 Sabzis
5 Dhals
5 Rotis-n-Parathas
4 Rice-n-Khichidi
8 Main courses
9 Desserts
4 Basic recipes
81 appetizing and innovative recipes from around the world.The book winds up with healthy heart sample menus.
Recipes like High fiber chutney,full of fiber pasta,Paneer shavarma wrap,Custard fruit tarts sound like so much fun and health!!!
Though this book has only a few color photographs of recipes,it certainly is very good in terms of its contents and recipes and sure will be helpful for those who are looking for better options to save their heart.
At a glance :
Book – Healthy Heart Cookbook: Low Fat Low Cholesterol Recipes (Total Health Series)
[ Click link to buy from Amazon]
Publisher – Sanjay & Company,Mumbai
Price -Rs.250/-[Purchased in 2009]
No.of pages -130
No. of recipes – 81
Please note:I have not been paid to write this review.
Happy browsing…