Our backyard houses a few essential herbs and trees that are found in most South Indian homes.A drumstick tree,a few coconut trees and a gooseberry tree adorn the back yard.A couple of days ago heavy winds knocked down the delicate branches of the drumstick tree and we had huge bunches of these leaves staring at us.Even after sharing it with our neighbors,a large bunch was left behind.
I am not a fan of the drumstick leaves curry,so turned half the bunch into a tasty soup.I don't think they serve this kind of soup in restaurants but its pretty tasty and very healthy.
While I was preparing this soup,call it coincidence or luck,a friend of mine had forwarded a mail with the benefits of drumstick leaves!!!It is said that these leaves can cure around 300 illness / diseases.It is also referred to as the miracle tree.Along with the mail was a link which took me to Trees of Life International [Check out the value of this tree and leaves in this site.]
This soup has herbs and spices to give a wonderful flavor.Adults can savor it as such without staining the soup,while children can be given the strained version so that the leaves and spices don't come their way.Lil angel loved it and asked for more and I was really impressed with the taste.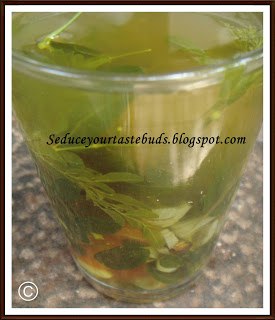 The drumstick leaves need not be separated from the smaller stalks.They will be tender by the time they get cooked.I have not mentioned the quantity as you can use them to suit your taste.
This is how you prepare this nutritive soup….
In a huge pot bring water to boil.
Put in 3 handfuls of cleaned and washed drumstick leaves ,
a handful of mint leaves and coriander leaves
Next, in goes chopped small onions,chopped tomato,garlic,ginger.
Add a pinch of turmeric powder, coarsely crushed cumin and pepper,aniseed,salt.
Simmer for 15 minutes.[Don't forget to close the pot while it simmers]
Stir and serve piping hot!!!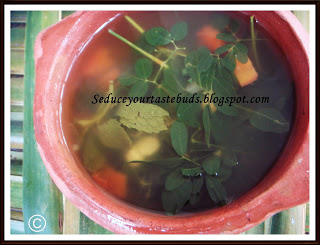 A bowl of piping hot soup
This soup is full of vitamins,minerals and fiber.It is very effective when you are dull and lack appetite. Drumstick leaves is beneficial for diabetics too.Give this soup a try and you are sure to feel rejuvenated!!!
This soup is being served to Sowjanya who is hosting
Vegetable Marathon
with the theme-Drumstick. [Thanks for letting me know about the event Sowjanya :).]Vegetable Marathon was started by Silpa of
Anitha's Kitchen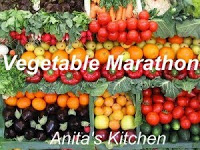 Bon Appetit…