Yesterday morning when I opened the refrigerator to check if there was anything worth cooking,a bowl of adai batter made itself present.The batter would just make 3-4 adais and it would not be sufficient for us.I checked the boxes in the pantry and was rewarded to find 1/4 packed of ragi flour.I put these two together and wanted to improve the taste.
Just as I was thinking,I saw the drumstick tree in the backyard from the kitchen window.The drumstick tree branches swayed gracefully and looked like it was calling out to me.I picked out a handful of leaves and dropped it into the batter and added a little of mint and coriander.Lo and behold,a tasty and healthy breakfast was ready!!!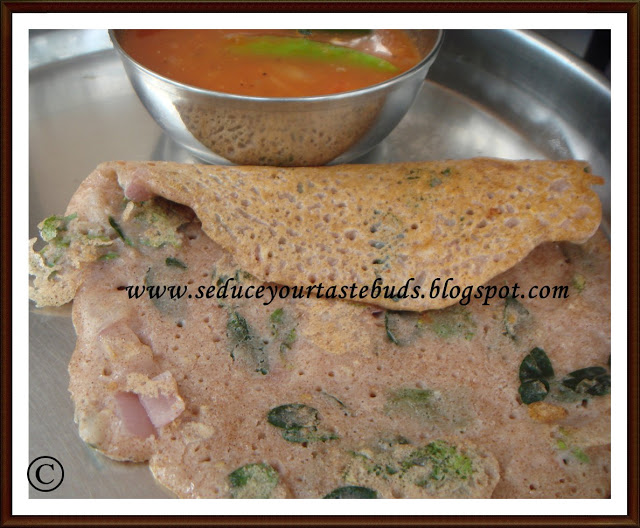 I used :
Leftover adai batter
Ragi flour
Drumstick leaves
Mint leaves
Coriander leaves
Cumin seeds
Finely chopped onions
Salt
I used 4:1[adai batter – ragi flour] ratio.You can use according to your taste/the quality of the ragi flour. Similarly adjust the quantity of onion,herbs.
Mix all the ingredients to make a batter without lumps.
Heat a griddle and pour a ladleful of batter in the centre and spread it.It may not come out as a perfect circle as we have added onion and herbs.Drizzle oil if needed and cover and cook till the edges leave the pan.
Flip it over and cook again for 2 minutes.
Remove from griddle and serve piping hot with a side dish of your choice.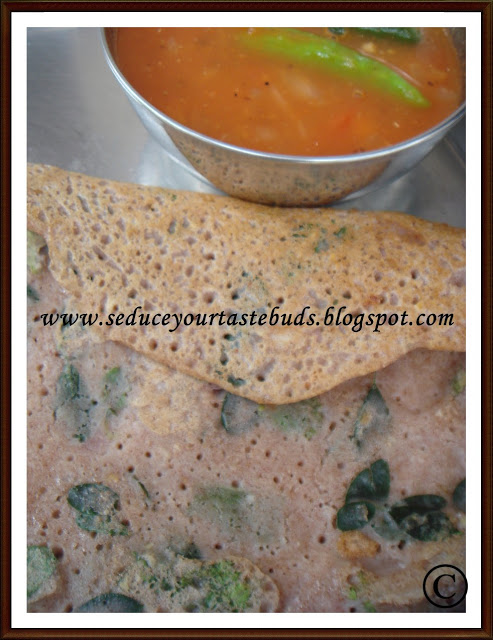 Sending this to Sowjanya who is hosting Vegetable Marathon with the theme-Drumstick.Vegetable Marathon was started by Silpa of Anitha's Kitchen and also my event-Scrumptious Delights from Leftovers.
Bon Appetit…