This month Nupur has announced BB6 and I was delighted to see the theme.We can blog any recipe that we have tried from another blog.My reason for happiness-I have many entries for her event 🙂
A couple of days ago I tried this Onion Chutney from Geetha's blog.Although I prepare onion chutney by another method,this one is a keeper.Tangy and yum,a perfect side dish for our morning breakfast.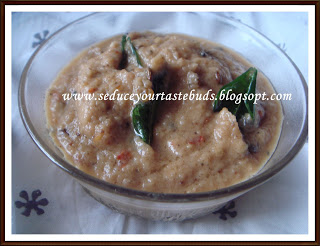 I used:
Onion- 3 ,sliced
Tamarind extract – 1 tablespoon
Red chillies-3
Urad dhal-1 tablespoon[white]
Salt to taste
Oil-1 teaspoon
To season:
Oil-1 teaspoon
Mustard- 1 teaspoon
Cumin seeds-1/2 a teaspoon
Curry leaves – afew
Asafoetida powder- a pinch
Heat a little oil in a pan and put in urad dhal and redchilles.Fry till the dal turns brown ,remove from heat.Keep aside.
In the same pan ,heat the remaining oil and saute onions till translucent.Cool.
Powder the dal and chilli and put in onion,salt and tamarind extract and grind to a paste but not too smooth.Remove into a serving dish.
In a smaller pan,heat oil and put in the ingredients under seasoning.When it splutters,pour over the chuney,mix well and serve.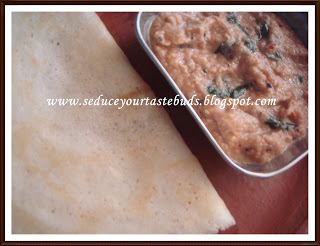 Note:
This chutney must be tangy so add tamarind pieces/ extract accordingly.
Grind the dhal first and the onions for a perfect chutney.
Bon appetit…