Known by names like Sechium edule[botanical] chayote,benguluru vankaya,chow-chow,chuchu, sayote, tayota, choko, chocho, chow-chow, christophene, mirliton, vegetable pear, starprecianté, citrayota or citrayote (Ecuador and Colombia) and pear squash[Source Wikipedia],this belongs to the Cucurbitaceae family,joining the melons, cucumbers and squash.When I bought this veggie at the farmers market,Ju said that I had purchased 'Buddha's hand'.Well,that's the translation of its Mandarin name which suggests that it looks like folded palms.
Now to the recipe,as I have a habit of turning steamed rice into interesting versions of flavored rice,I tried this spicy rice that was welcomed by all at home.
I used:
Steamed rice – 2 cups
Chow-chow-1/2 cup ,finely chopped
Multi purpose spice mix-3 tablespoons
Thick tamarind extract-1 tablespoon
Mustard-1 teaspoon
Cumin seeds-1 teaspoon
Gram dhal-1 teaspoon
Curry leaves-a few
Oil-2 teaspoons
Salt to taste
Microwave the chow-chow sprinkling a little water till just cooked.Keep aside.Alternatively you can also cook it on the stove top.
Heat oil in a pan and put in mustard,cumin and curry leaves.
When this pops add the chow-chow and saute for a minute.
Add the tamarind extract and a little water and once the raw smell disappears,put in the cooked rice,salt and multi purpose spice mix.[Check the taste before adding salt as the spice mix already has some salt added to it]
Mix well and cover and simmer for 2 minutes.
Serve with pappad / raita.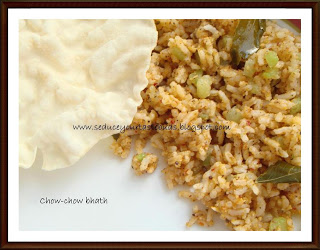 Note:
Taste and increase the spice mix if you want it more spicier.Add more cooked rice if the quantity I used is spicy.
Adjust tamarind extract to suit your taste.
Bon Appetit…