I have posted two recipes today.Do check out the tasty Tofu stuffed paratha too…
Each time I come down to India,I try to learn as many new recipes as possible,from my mom and the cook at MIL's place.This rasam is from my cook who, one day,saw a pack of kollu / horse gram in the pantry and said she would prepare 'selavu rasam'.[Selavu ,in tamil,means-expense/expenditure].I was puzzled.
Was the rasam going to make me spend more,I wondered.Then she elaborated that since this recipe involves more ingredients than the usual rasam,people referred it to as the rasam that is prepared after spending money to procure the ingredients!!Nice name and lovely rasam.Some people refer this as medicinal side dish too!!
The health benefits of kollu/horsegram is here,so I am not elaborating it again.Here is how the horsegram looks….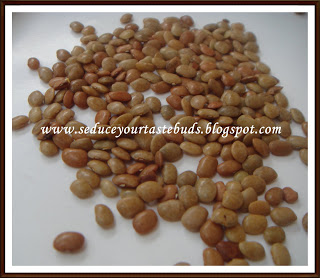 Now to the recipe..
You need:
Horsegram-1/2 a cup
Tomato-1,blanched and pureed
Tamarind extract-1 teaspoon,thick
Mustard-1 teaspoon
Cumin seeds-1 teaspoon
Asafoetida powder-a pinch
Curry leaves-a few
Salt to taste
Oil-1 teaspoon
Coriander leaves to garnish
Grind to a smooth paste
Pearl onion-5 numbers
Garlic-3 large pods
Red chillies-2
Coriander seeds- 1 1/2 teaspoons
Cumin seeds-1 teaspoons
Curry leaves a few
Cooked horsegram-2 tablespoons
Pressure cook the horsegram for 20 minutes with a few drops of pure castor oil.Please note that if you are using castor oil for the first time,use exactly two drops,even otherwise castor oil must be used judiciously.If castor oil is unavailable,use sesame oil.Else just pressure cook it for more than 25-30minutes,or till soft.Horsegram requires a longer time to cook when compared to the other legumes.Soaking helps it to cook a little faster.
When the pressure releases,mash it lighlty with the back of a laddle and keep aside.
Heat oil in a pan and put the mustard,cumin and asafoetida,curry leaves.
When it splutters,put in ground paste and saute for a minute.
Add the pureed tomato,mashed horsegram,tamarind extract and salt.
Add water to bring it to the consistency of your liking.
Bring to a boil and simmer for 5-8 minutes.
Serve, garnished with coriander leaves,as a soup or as an accompaniment with steamed rice.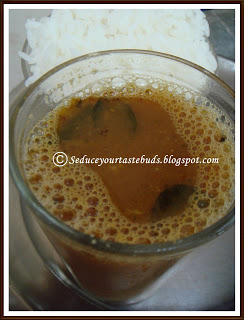 This lentil soup / side dish is going to be served at MLLA – 26,an event started by Susan and now hosted by Simone.
Bon Appetit…