One Sunday morning,a couple of years ago, was a busy day indeed…Not for me but for my mom.She had invited my sis and her little daughter for lunch.[Her hubby was away on some tour].Mom said she needs no help and I could watch her in her work if I wanted to and that's exactly what I did.I was drooling by the time she even started cooking.In her usual way,she went around the kitchen turning it into heaven!!This is what we had for lunch.
Happala Karadha Payasa
Rice with sambar,Rasam
Potato Podimas
Bajjis
Curd Rice
Simple but a delicious treat.


Happala Karadha Payasa is very yum especially since we use ghee to deep fry the happala.[Of course, anything that makes use of ghee is definitely yum].It is one of my favorite payasa/kheer.Though time consuming,I assure you that the result will keep you craving for more.
Sambar…Mmmmm…This is one of the staples in all south Indian homes.The other one being the good old rasam.I always wonder how moms rasam is so aromatic and tasty.Anyone who catches the wonderful aroma wafting around the house when she is preparing it are sure to comment on it and very soon a piping hot bowl of her rasam will find a place on their table!
Potato Podimas is a easy-to-prepare potato curry and there is no one who does not like potato and this is one recipes that everyone will love.
Now coming to my dearest curd rice-Would you believe me if I told you that I had been eating this humble curd rice for breakfast for the more than 10 years!! Wonders-When I come to think of it I am amazed myself.When mom used to turn out yumm breakfasts, I still would adamantly stick on to my favorite curd rice.Yes, for many years during my school and college days this was my breakfast staple.
I still remember my school bully who went around spreading this wonderful news and telling everyone that those who ate curd rice in the morning were bound to be dull-headed as it would make them sleepy and even more important would do badly in their studies.But that clearly didn't deter me from changing my breakfast menu.Not only did I do well in school,I was a medalist in college as well!!Curd rice is a breeze to prepare and you can add or omit the garnishing to your taste.Add in Raisins/roasted cashews/finely chopped apples/green grapes,raw mango/cucumber…Anything to suit your palate.
Bajji-My niece just adores them.Use any vegetable like Potato/Ridgegourd/Chow-chow/Onion/Brinjal and she will be the first one to come running to the kitchen to grab her share.
All these recipes are here for you to try out and have a wonderful lunch….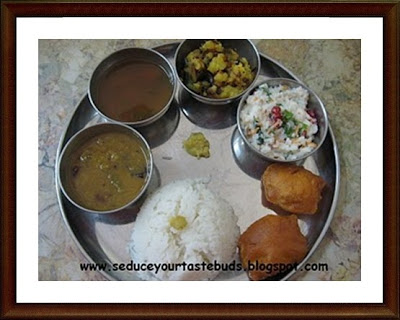 Sambar,rasam,potato podimas,curd rice,bajji with rice and ghee
If you are wondering when we had this lunch it was sometime around May 2008!!!Lil angel was a 3 month old baby catching aroma and she was probably wondering what those delicious smells were!!!
Bon Appetit…