By now I am pretty sure everyone is aware of my love for yogurt based dishes.Though it is officially autumn here,it feels like summer has never ended.Its blazing hot outside.A chilled raita with a one pot meal is the most ideal meal for me in this type of climate.I made this Brinjal Raita and paired it with Corn Pulao.
I used:
Chinese brinjal-1/2
Ginger garlic paste-1 teaspoon
Chilled yogurt
Chilli powder- to taste
Salt to taste
Oil for shallow frying
Seasoning
Oil-1 teaspoon
Mustard-1 teaspoon
Cumin-1/2 a teaspoon
Red chilli -1
Coriander leaves to garnish
Slice brinjal and apply a little ginger garlic paste and keep aside for 10 minutes
In a pan heat oil for shallow frying and arrange the brinjal pieces in the pan.
Shallow fry both side till they turn almost crisp and brown.Take care not to char the slices.
Drain and keep aside
Beat the chilled curd with chilli powder and salt.
Heat a small pan with oil and put in the seasonings.
When it splutters pour over the beaten curd and mix well.
Put in the fried brinjal.
Mix gently and serve immediately garnished with coriander leaves.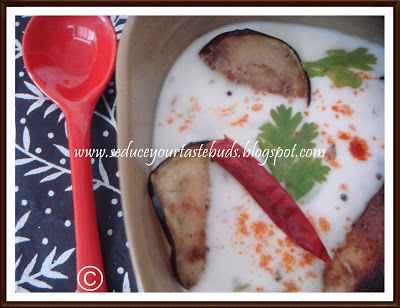 Sending this to Akila who is hosting Dish name starting with B
Bon Appetit…