The first time I saw this was in DK's Blog I wanted to make it for hubby..I have never liked sweet potato,not that I hate it or something but maybe its the sweet taste that I found to be overpowering.Goji berries -never ever tasted in my life until I came here.So a combo of these two sounded intriguing !
Though I wanted to try this out almost as soon as Divi posted her recipe,I could make it just last evening.The taste was wonderful.The sweetness of the sweet potato mellowed down by the ginger and crunchy nuts , plump goji berries-Yum Yum…
Here is what happened yesterday.I steamed two sweet potatoes and used one to prepare this and left the other as such.I was not sure how my folks would like the new recipe and had the steamed one as such coz its one of hubby's favorite 'snack'.
He-Whats for snacks today?Or is it a soup?
She-Snacks-your favorite
He-Bajji?
She-Nope.Guess…
He-[A little irritated]Just bring me whatever u made.I am too hungry for guessing games today.
She-[With two bowls-one with the steamed sweet potato and the other with goji berries and nuts]Which one do u choose?
He-I will have the steamed one
She-U didn't even try this one.Its yum u know.
He-[A little suspicious]I Will have the steamed sweet potato.
Lil one-I want that red color …what is that mummy?
She-U try it and tell me
Lil one-[Scoops out mashed sweet potato with nuts savors it] Its yummy mummy 🙂
He-Ah!!Give me some to try
Lil one-Its mine
He-[Takes a spoonful unmindful of the lil one's 'possessiveness']-Hey,this IS better than the steamed one.Make it for me too…
So I made this again and I think this conversation is enough to tell you how much we liked it.
i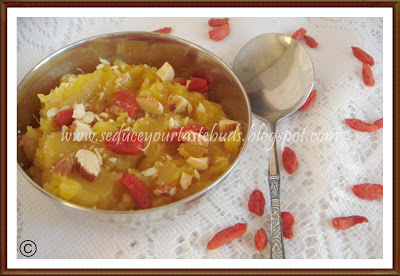 Sweet Potato Mash With Goji Berries
[Adapted from Divya's Chef In You]
I used:
Sweet potato-1 large,chopped into chunks
Goji berries-1 tablespoon
Roasted almonds,chopped-2 tablespoons
Oil- 1 teaspoon
Grated ginger-1 teaspoon
[The original recipe calls for Maple syrup but I did not have it at hand so left it out]
Soak Goji berries in a cup of hot water till it swells.Drain and keep aside.
Steam the sweet potato till soft.
Peel and mash.
In a small pan heat oil and put in ginger and cook on low flame for a couple of minutes.
Pour this into the bowl of mashed sweet potato.
Put in the goji berries and half of the nuts .
Mix and serve garnished with the remaining nuts….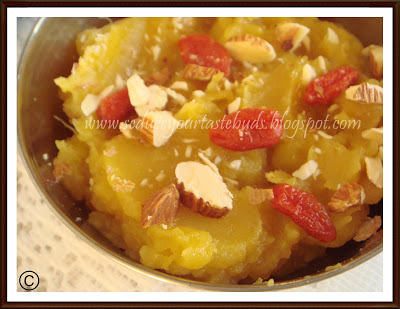 Bon Appetit…