'Why this title?',you might wonder.This recipe does have some interesting anecdotes associated with it.Around a year ago,I saw a recipe @ Alka's Sindhi Rasoi that made use of lotus stem.I have seen fresh lotus roots/stems at the farmers market but since I didn't know what to make of them,never gave them a second look.Then when I saw Alka's recipe,I was drooling over her click and the next day reminded myself to buy one.Having never ever used lotus stem in the raw form ,I turned home without buying it.Dried lotus stem is a snack I love.There are sold as 'Thamarai thandu vatral'[dried lotus stem] and when deep fried in oil ,is a tasty and crunchy snack/side dish.But the vegetable,I was not so sure.
The next couple of trips to the farmers market was not in favor of the lotus stem.Then finally I made up my mind to prepare the dish and got it.It stayed in the fridge for a couple of day.Then we went on a tour for a week and my dear maid threw it out when she cleaned the fridge.
Then again I picked it up after few week and prepared the dish on the very same day.It tasted excellent and we were impressed.But again tragedy struck.The pics got struck in the drafts this long till Nupur announced the BB6-Pot luck edition.I wanted to send this but again forgot.How mean can I be!!!Then thought I will send it to Priya who is hosting Bookmarked recipes every tuesdays but I can never remember Tuesdays and failed to post this yet again.
Fianlly it is off to Ria who is hosting Tried and tasted for this ,month and the blog she chose was Alka's Sindhi Rasoi.T&T is an event started by Zlamuska and carried on by Lakshmi .
Btw,Did I tell you that lotus stem is called 'Bhee'…..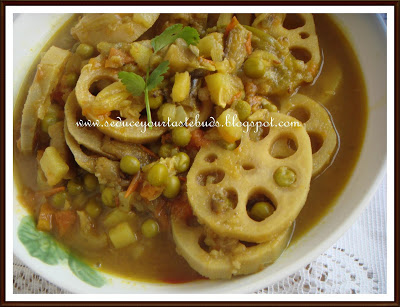 The original recipe is here – Bhee Patata-from Alka's Sindi rasoi.
I used:
Bhee/Lotus stem – 1,thoroughly cleaned,peeled and sliced slantingly.
Potato-1,peeled and cubed
Onion-1,chopped
Tomato-1,chopped
Medium sized [Chinese] brinjal-1
Fresh peas- a handful
Ginger- a small piece
Green chillies-4
Turmeric powder-a pinch
Garam masala-1 teaspoon
Cumin powder-1 teaspoon
Coriander powder-1/2 a teaspoon
Oil-3 teaspoons
Salt to taste
Coriander leaves to garnish
Heat oil in a a pressure cooker and put in onions,ginger,green chillies and saute till translucent.
Put in tomato and cook till soft.
Add the turmeric powder,cumin powder,coriander powder,garam masala ,salt and mix well.
Add 2 cups of water and put in brinjal,peas,potato,lotus stem
Cook for two whistles.If the lotus stem is tender it gets cooked by now,else cook for another whistle.
When the pressure releases,open the lid and check for salt.If its too watery cook again till a gravy consistency is got.Or if its dry add more water and cook.
Serve hot with rice garnished with coriander leaves.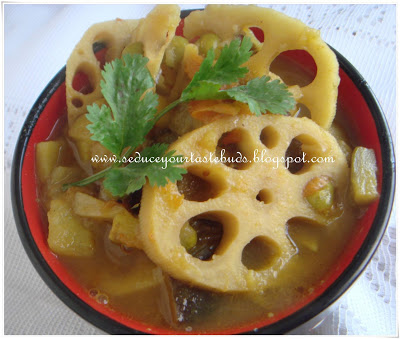 Bon Appetit…