After a break of almost a week I am back with a tasty and nutritious breakfast/snack.Poha/aval/pressed rice is rich in iron and along with it are the vegetables to add to the vitamins.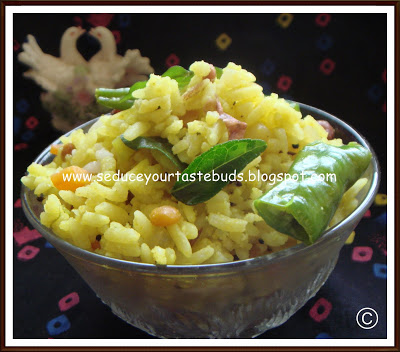 Vegetable Aval Upma


I used:
Aval / Poha /Pressed rice /Beaten rice – 1 cup
Mixed boiled vegetables-1/2 a cup[I used carrots,corn,beans]
Onion-1,finely chopped
Roasted peanuts-a handful
Green chillies-2,chopped
Curry leaves -a few
Grated coconut-2 tablespoons
Mustard-1 teaspoon
Cumin seeds-1/2 a teaspoon
Gram dal-1 teaspoon
Turmeric powder- a pinch
Salt to taste
Oil-1 tablespoon
Wash the poha and drain.Put in a bowl and sprinkle a little water and cover and keep aside till it is soft.Check once in a while to see if you need to sprinkle more water and mix and let it sit till soft.
Heat oil in a pan and put in mustard,cumin,gram dal and when the dal turns brown,add the curry leaves and green chillies,turmeric powder.
Add the onion and saute till trnasparent.
Put in the vegetables,poha,salt and mix well.
Sprinkle a little water if it is too dry.
Add the roasted peanuts and remove from heat.
Serve garnished with grated coconut.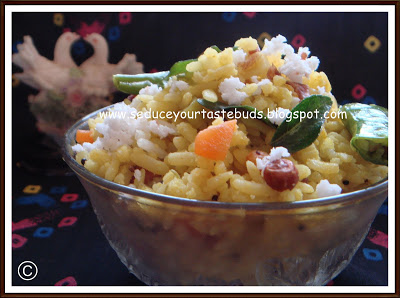 Vegetable Aval Upma
Note :
There are two varieties of Pressed rice – the thick and thin varieties.
If you are using the thin variety, wash the Pressed rice in a colander and use immediately.If you let it stand too long,it will get soggy.
If using the thick variety,wash it and put in a vessel.Sprinkle a little water,cover and let it stand for 10 minutes or till it is soft.Then use it in the recipe.
Coconut can be added along with the veggies instead of adding it as a garnish.
A dash of lemon juice can be added after taking it off the flame for a tangier upma.
You might also like to to try out these varieties with pressed rice
Sweet Poha – A healthy and sweet dish that kids will adore
Kande pohe – A dish straight from Maharastra
Aval upma – The regular method
Curd aval – Delicious and cooling pressed rice in seasoned yogurt.
Tangy Aval Upma – Upma with a tangy lemony twist
Puli aval upma-Tangy tamarind poha upma
I am sure you are waiting for the roundups of healing foods and scrumptious delights from leftovers.I will surely post it in a couple of days….
Bon Appetit…