A creamy,crunchy soup from Tarla Dalal's Healthy Heart Cookbook .A low fat delectable soup that has a wonderful texture and a little different from the other soups that I usually make.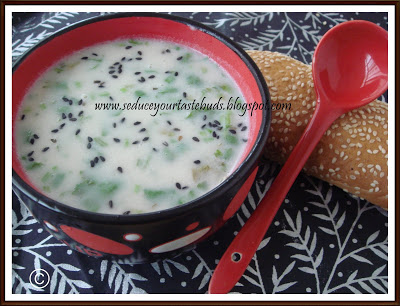 You need:
Cauliflower,chopped – 2 cups
Onion, finely chopped-1 cup
Low fat milk-2 cups[adjust depending on the consistency you prefer]
Corianderleaves finely chopped-2 tablespoons[The original recipe calls for celery]
Oil-1 teaspoon
salt and pepper
1.Heat oil in a pan and saute the onion till they are translucent
2.Add the cauliflower and saute for another 5 minutes,add milk and a cup of water .Bring to boil.
3.Simmer till the cauliflower is partially cooked.
4.Cool and blend to a rough puree.
5.Return the puree to the pan and bring to boil.Simmer for a couple of minutes.Add salt and pepper.
6.Add coriander leaves and serve hot..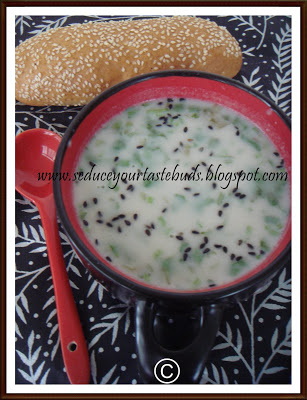 Crunchy Cauliflower Soup
Bon Appetit…