'Cooking with 1 teaspoon oil' is yet another book from the 'Total health series' by Tarla dalal.It is a treasure trove of Low calorie Indian recipes.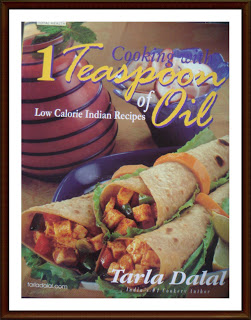 This book chases away the fact that Indian cooking means using oodles of fatty stuffs like butter and ghee and of course loads of oil.This book also serves as a guide if you are searching for ways and means to lose weight.She points out substitutes to make the meal attractive to the eyes and palette.As with all her books in the total health series,the recipes in this book too has been analyzed by qualified nutritionists.
This book has these chapters
Fats and oils
To lose weight correctly and to keep it off permanently
Eating and cooking healthy
Fat busting tips
Eating out
Healthy dieting guidelines
Top 8 diet questions
Abbreviations and standard measurements
Major nutritients and their sources
Foods allowed and restricted for weight watchers
Menu planner
The recipes are
8 Delicious breakfasts
5 Thirst quenchers
8 Wholesome snacks
5 Anytime munchies
6 Tongue Tickling subjis
11 Dals and Kadhis
6 Rice Delicacies
8 Crispy rotis and Parathas
9 Tangy salads and Raitas
6 Delectable Mithais
6 Basic recipes.
There are around 10 clicks in this book that will surely make you drool.The recipes have been put together with a lot of imagination! Recipes like Barley and corn Kachumber,Low fat kulfi,Nutritious garlic naan,Soya mattar pulao,Palak- baby corn subji,Low cal chivda,High fiber chilas,Pineapple celery juice are truly very innovative.
Book – Cooking with 1 Teaspoon of Oil: Low Calorie Indian Recipes (Total Health Series)
[Click link to buy from Amazon]
Publisher -Sanjay and Co,Mumbai
No of pages – 160
No. of Recipes – 78
Price -INR 250/- [Purchased in 2009]
Please note that I have not been paid to write this review.
Happy browsing…