This is another book that I picked up from the used book store.The title was too good to ignore!Well,who doesn't wana stay young forever!!!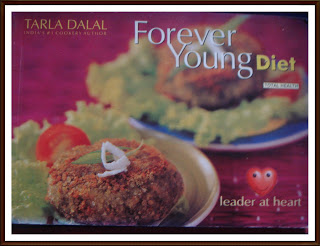 This book authored by Tarla Dalal comes under the total health series.Though this book has very few pics,the recipes are a delight to try.Easy and tempting dishes make up for the missing pics.
The book is divided into 5 sections and each section starts with an introduction.The recipes in each section too start with a couple of lines on why that particular recipe is healthy.Its always good to know what is in the food we eat, rite?
Each recipe also gives the nutritive value of the dish -Calories,protein,carbohydrates,Fat and vitamin and minerals / serving.
There are 8 recipes each under the following heading..
For glowing skin
For shiny hair
For bright vision
For healthy bones
To increase immunity
Simple recipes for a beautiful and youthful you!!!
At a glance
Book –Forever Young diet
[Click link to buy from Amazon]
Author – Tarla Dalal
Publisher – Sanjay & Co.
No. of Pages – 102


No. of Recipes – 40
Price – Rs. 89 /- [That's the price printed on the book but I got it for Rs.30!!]
Please note that I have not been paid to write this review.
Happy Browsing…