Parathas find their place at our table more than twice a week and any repetition of the parathas is bound to bring in various reactions from my folks. So this purple cabbage-tofu paratha was just what I wanted to prepare when I was looking for a new type of parathas to occupy the table. The original recipe uses paneer but I used tofu[of course u know my love for tofu rite!].A very colorful and tasty and not to mention healthy parathas welcomed everyone for dinner that nite..
This one also goes to Priya of Priya's easy and tasty recipes who has chosen Divya's Chef in You for this months edition of Tried and Tasted,an event started by Zlamushka and now being carried on by Lakshmi of Kitchen Chronicles.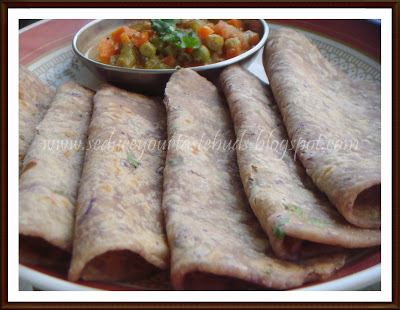 Purple cabbage-Tofu Parathas
Recipe source – Chef In You
You need:


For the dough
Whole Wheat flour-3 cups
Cumin seeds-1 teaspoon
Salt to taste
For filling:
Purple cabbage
Tofu,crumbled-1/2 a cup
Red chilli powder-1/2 a teaspoon
Coriander leaves,finely chopped-1 tablespoon
Salt
Grate cabbage to get 1 cup and add a little sat to it and set aside for half an hour.Squeeze out the liquid.
Take the cabbage,crumbled tofu,chilli powder,coriander leaves,a little salt if required in a bowl and mix well.
In another bowl,put in the ingredients under dough and use a little water[or the water squeezed out from the cabbage.In that case reduce the salt for the dough] to make a smooth dough.
Pinch out a small portion of the dough and place a teaspoon of filling on it.Bring the sides together to seal the filling within the dough.
Flatten lightly and use a rolling pin to make a paratha.[It is quite tricky and needs lots of practice and patience!!]
Cook on a heated gridle till brown spots appear on both the side.
Serve with a side dish of your choice.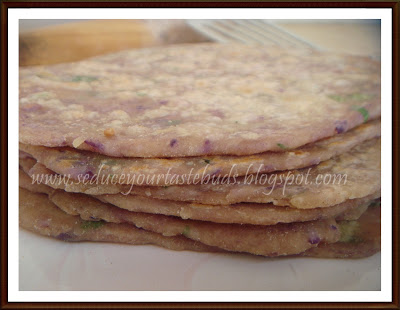 If you want to make these parathas in a hurry and cannot struggle with filling and rolling out,there is another way to do it.
In a bowl put in the ingredients for dough and filling together and use very little water to make a dough. Proceed as u normally make chapthis. Use a little flour to dust if its very sticky.
This also goes to my event Tasty Tofu Treats hosted here….
Also take a look at the other recipe posted today – Cold coffee float
Bon Appetit…