When I checked my pantry one day to soak ingredients for dosa,I saw a little of soya and corn grits in the jars and came up with this dosa variety.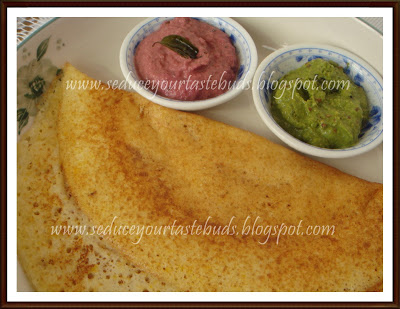 Soya Cornmeal dosa served with purple cabbage chutney and coriander chutney
I used:
Rice- 3 cups
Corn meal-1 cup
Soya- 1 cup
White [whole] urad dhal-1 cup
Methi seeds-1 teaspoon
Cooked rice -a handful
Salt to taste
Soak all the ingredients except cooked rice for 5-6 hours or till the soya swells up.
Grind to a smooth batter along with cooked rice.[I did not ferment it .Used it within an hour.It tasted better the next day though.]
Heat a griddle and spread some batter like dosa.Cover and cook for a few minutes.Drizzle oil if needed.
When the edges turn crispy,flip it over and cook for another two minutes.
Serve hot with chutney / sambar.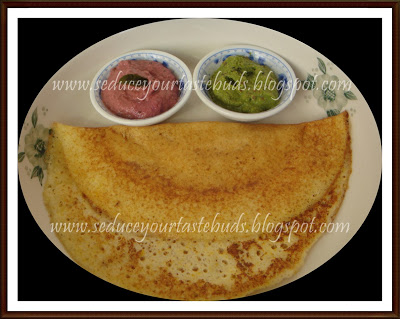 Soya Cornmeal dosa served with purple cabbage chutney and coriander chutney
Bon Appetit…