I am really late in posting the recipe for Taste and Create.As you may be aware,Taste and create is a blogging community started by Nicole of For the love of food.It basically involves pairing bloggers and trying out recipes from each others blog and blogging about it.Are you interested?Then Sign up and be a part of the team.
This month I was paired with Silvermoon dragon of Dragon Musings.She blogs from Australia and has a whole lot of stuffs going on in her blog in addition to food.Do check it out…
The recipe I tried from her blog was a simple Vegetable Hokkien Noodle stirfry.Ingredients are very simple and can be made in no time at all!!!
A small research on this Hokkien Noodles told me that it is also called Hokkien Mee/ Fried Noodles cooked in Hokkien or the Fujian style.Fujian is a province in South Eastern China.Mostly it has some kind of meat but in Silvermoon Dragon 's blog,it was only with vegetables…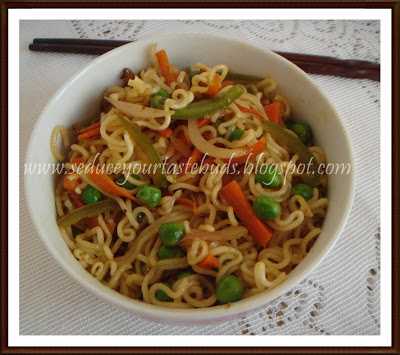 Vegetable Hokkien Noodle Stir-fry
Recipe source- Dragon Musings
I used:
Hokkien Noodles /Fried Noodles -1 packet
Onion-1,finely sliced
Carrot – 1 ,julienned
Frozen peas-a handful
Capsicum-1,small,julienned
Oil-2 teaspoons
Chilli sauce-1 tablespoon
Salt to taste
1.Cook the noodles according to the instructions on the pack.Drain and keep aside.
2.Heat oil in a wok and put in the vegetables and stir on high heat.Saute till the vegetables are cooked yet are a little crisp.
3.Add the chilli sauce and salt.Mix well.
4.Put in the noodles and mix well.
5.Remove from heat after a couple of minutes.
Serve hot…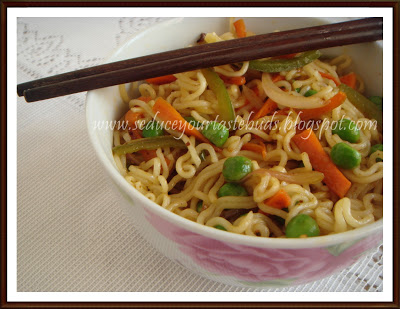 Bon Appetit…