Today's post brings back a lot of memories.First,this pulao is prepared by mom and I just clicked it.During my stay in India for a couple of months I enjoyed moms cooking and when I had a few days to leave my hometown,I asked mom to prepare her signature dish-Vegetable pulao.
This pulao is my favorite and I can openly say that it is a favorite dish of my friends too.Whenever mom packed this for lunch,school / college,I would only get a spoonful,all the rest happily savored by my friends.Some of my friends would actually be craving to have this one so I would ask mom to make it in large quantities to share with my friends.
This time when mom made this lil Angel loved it and ate the veggies and the rice[in that order] with much relish.Mom and me had our lunch together after dad and lil angel finished theirs.We were talking about how much we would miss each other and stuffs.One of the memorable lunches….
This Pulao is subtly flavored with coriander leaves and some spices and has loads of veggies.With it is the chutney raita.Since the pulao already has veggies,this raita compliments it to the fullest.Rice crisps [also prepared by mom for us to take back] added the crunch.A hearty , healthy and memorable lunch!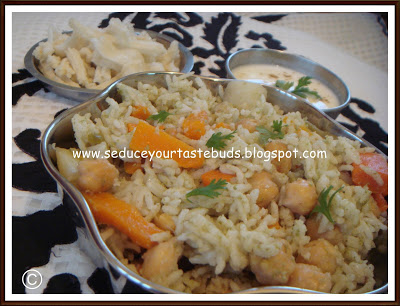 For Pulao :
Basmati rice-2 cups
Mixed veggies,chopped- 2 cups[Carrot,Potato,Cauliflower,Beans]
Channa,soaked overnight-1/4 cup
Salt to taste
Ghee-2 tablespoons[Use oil if u like]
Saute with a little ghee and grind to a smooth paste with a little water:
Coriander leaves -a small bunch
Coconut,grated -2 teaspoons
Cardamom – 2
Cinnamon -a small piece
Green chillies -2
Wash ans soak Basmathi rice for 15 minutes.Wash again and drain in a colander for another 15 minutes.
Heat a little ghee in a pressure cooker ans saute the veggies on medium flame for around 5 minutes.Remove and keep aside.
Heat the remaining ghee and put in the rice and saute for a couple of minutes.Then pout in the ground paste and saute for 2 minutes.
Add the veggies ,salt,channa and 4 cups water and bring to boil.
Cover and pressure for 10 minutes or till done
Once the pressure releases,remove rice from the pressure cooker and servewith a raita of your choice.
You can add peas or any other veggies also .Raisins and finely chopped apples,pineapple can be added as a garnish if you like to give as sweet touch to the dish.
Since the Pulao has veggies I suggested we make this Chutney raita.I tasted a yummy chutney raita in an Indian restaurant on our trip to Xi'an.We had paired it with an absolutely delicious vegetable briyani.So I thought it will go well with this pulao too.
For Raita you need:
Coconut,grated – 1/4 cup
Ginger- 1″ piece
Thick Yogurt / Curd -2 cups
Cumin powder
Salt to taste
Coriander leaves to garnish
Grind the coconut and ginger to a fine paste with a little water.Whisk the curd with salt.Mix the chutney and curd.Sprinkle cumin powder and serve garnished with coriander leaves.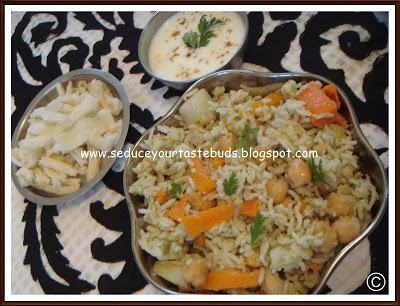 Lets go back and see what I cooked in the past..This day that year…
2009 – Bittergourd crisps our favorite dish that disappears even before it reached the table…
Bon Appetit…