I made this from Sailu's Blog a long time ago and has been in my drafts ever since.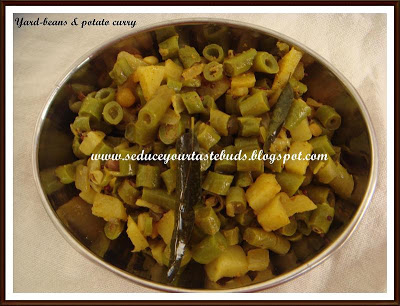 Yardlong Beans – Potato Stir Fry
Source – Sailu's Kitchen
I used:
Yardlong Beans,chopped – 2 cups
Potato,peeled and chopped – 1/2 cup
Garlic – 2 large cloves,minced
Red chilli powder – 1 teaspoon
Coriander Powder – 1/2 a teaspoon
Roasted fenugreek powder-a pinch
Mustard-1/2 a teaspoon
Cumin seeds – 1/2 a teaspoon
Curry leaves – a few
Oil- 2 teaspoons
Salt to taste
Parboil chopped beans with a large pinch of turmeric.Drain and keep aside
Heat oil in a pan and put in mustard, cumin seeds, curry leaves and minced garlic.Saute for a couple of seconds
Add the potato and salt.Mix well. Sprinkle a little water and let it cook till three-forth done.
Add the coriander powder, Chilli powder and fenugreek powder.Mix .
Put in the beans and sprinkle a little water. Cover and cook till both the veggies are soft.
Remove from heat and serve with rice.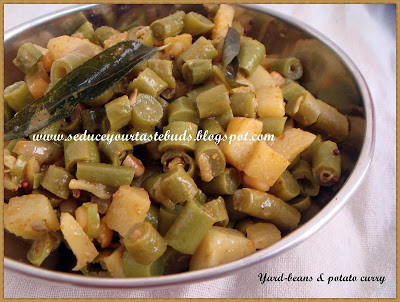 Sending this curry to BB-9 –Holiday Buffet hosted by Nupur of One Hot Stove.
This day That year…
2008 – A colorful Carrot Rice
Bon Appetit…