Gol Papdi is a sweet dish from Gujarat.I was always in the thought that the name for Gol Papdi is not so apt.I wondered it was square when the name suggested it was Gol-meaning spherical/ladoo shaped!Then my search on the net made me realize that GoL was for the jaggery rather than the round shape!!
Before I go on to the recipe,I would like to tell you that I have categorized the sweets and savories in my blog as a Festive Treats section.Do take a look…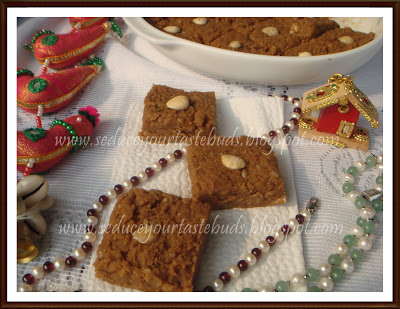 I used:
Wheat flour -2 cups
Brown sugar-3/4 cup[Use jaggery instead]
Milk-3/4 cup
Sesame seeds-2 tablespoons
Dessicated coconut-1/4 cup
Ghee-2 tablespoons
Almond flakes -for garnish
In a microwave proof dish melt ghee for 1 minute.
Put in the wheat flour and mix well.Microwave for 8 minutes till a nice aroma arises and the color changes to golden brown.Stir at the end of every 2 minutes.
Put in sesame seeds,brown sugar,sesame seeds,coconut.Mix well.
Microwave on medium 5 minutes or till the brown sugar has melted.Stir every minute.
Put in the mix and mix well.
The mixture will turn sticky.
Microwave on medium for 3 minutes.Stir at the end on one and a half minute.
Let it rest for 2 minutes.
Remove for the microwave and check if you can bring the mixture to a ball when mixed.Else microwave for another minute.
Transfer into a greased plate and mark squares with a greased knife.Decorate with almond flakes and allow to cool.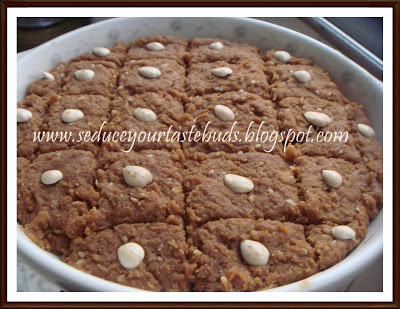 Break into squares when completely cool and store in an airtight container.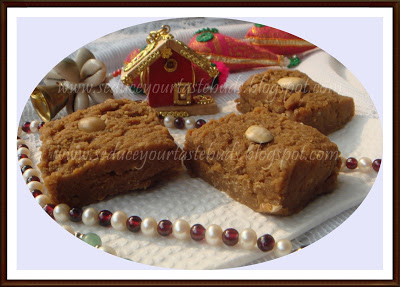 Sometimes after the milk has been added the mixture will not come together.In such cases,transfer the contents onto a heavy bottom pan and cook till the mixture come together as a ball.Add a little more ghee / milk if needed. If the consistency is a little gooey shape into ladoos or serve like halwa..
Also take a look at the crunchy and cripsy Namak Pareposted today…
Sending this to Mina who is hosting Complete My Thali with the theme Mithai,an event started by Jagruti of Joy Of Cookig…
This day That year…
Incidentally,on this day in 2008,I had blogged about another wheat flour based dish!!A tasty Wheat Flour Dosa
Wishing all my friends and fellow bloggers
A very happy and safe Diwali…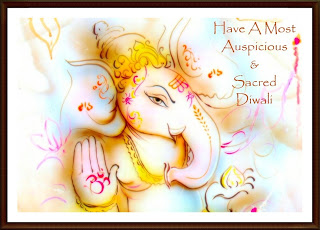 Bon Appetit…