Lil Angel has now developed a special fondness for Purple cabbage after I made this Purple cabbage rice and she wants it almost everyday!I have now started preparing a lot of 'colored' rice dishes for her so that she really enjoys them and I need not force her to eat.Her favorites are Purple [cabbage] rice, orange rice [carrot rice], green rice[ spinach rice].Yellow rice[lemon rice] and white rice [coconut rice] are probably last in her list and there is always a big 'Yes' to curd rice :).
So when there was a request from her that I should prepare 'purple' rice for lunch,I made this version from Priya's Blog which is being featured in this months edition of Tried and Tasted hosted here.
I used the Paruppu podi that mom had sent me.I t was a delicious dish that we all enjoyed.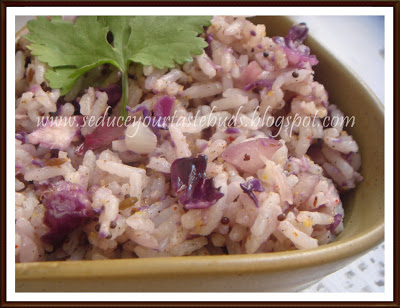 Purple cabbage rice with paruppu podi
Source : Priya's Easy N tasty Recipes
I used :
Cooked rice – 2 cups
Purple cabbage ,grated – 1 cup
Onion- 1 chopped
Paruppu podi – 2 teaspoon
Coriander powder-1/4 a teaspoon
Curry leaves- a few
Mustard- 1/2 a teaspoon
Cumin seeds-1/2 a teaspoon
Salt to taste
Oil- 2 teaspoons
Heat oil in a pan and put in mustard,cumin and curry leaves.
When it splutters put in onion and saute till translucent.
Next in goes the grated cabbage,coriander powder and saute.Do not add water as u will end up with a dull blue rice instead of a vibrant purple rice.
When the cabbage is cooked ,put in paruppu podi,salt .
Switch off flame,mix well and serve hot.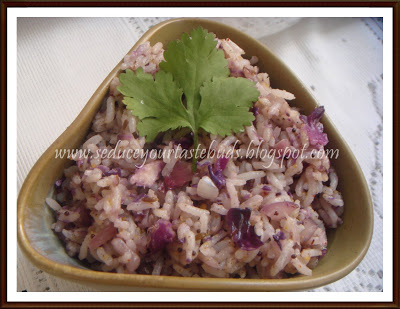 This day That year
2008 – Fusion Rice prepared on an uninspiring day in my kitchen that turned out to be yum!
Bon Appetit…