Madhuri of Cook curry nook has passed on 'The Versatile blogger' award.Thanks dear Madhuri,you sure did make my day :).Do take a look at her blog and join her in her quest for chocolate Nirvana!!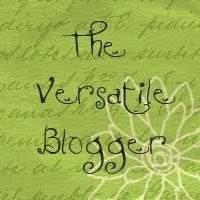 Its time to pass it on and its really hard to decide between a whole bunch of lovely bloggers but I have to do this really hard thing in choosing 10 bloggers.So here they are…
1.Kurinji of Kurinji Kadhambam
2.Amritha Kalyani of AK's Vegetarian recipe world.
3.Deepti of Stories of my experiments with food
4.Tanvi of Sinfully spicy
5.Meenakshi of Ponderings of a working mom
6.Jaya of Curry and Spice
7.Nitha of Amateur Perceptions
8.Krishnaveni of Krishnaveni's Kitchen
9.Ragini Miranda of Happy,healthy,fun cooking
10.Apu of Annarasa
As I always like to say,even if you have received this earlier kindly pass it on 🙂
Now moving on to today's post….
What happens when the Lil one in the house refuses to eat veggies and prefers curd rice for every meal?! Especially when the Lil one used to love veggies and suddenly hates them!Then it is time I sneak it into the dishes I prepare and trick' the Lil one into eating it…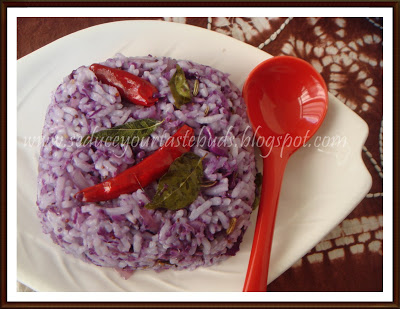 Thus was born this 'Purple rice'.Lil angel was actually fascinated by the fact that she would be served a purple colored rice for lunch.I wanted to maintain the color of the purple cabbage so that it interests her.Added a very few spices so that it is not over whelming for the Lil one.The result was that Lil Angel loved it and finished her share!Thank Heavens!!!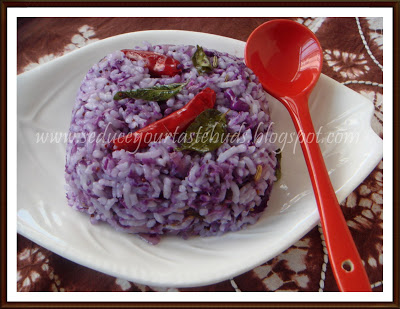 I used:
Cooked rice -2 cups
Purple cabbage,grated-1 cup[Increase / decrease to suit your taste]
Onion-1,sliced
Mustard-1 teaspoon
Fennel seeds-1 teaspoon
Cinnamon-a small piece
Curry leaves-a few
Asafoetida powder- a pinch
Red chillies-3
Salt to taste
Oil-2 teaspoons
1.    Heat oil in a pan and put in mustard,fennel seeds,cinnamon,curry leaves,asafetida powder and red chilllies
2.    When the mustard crackles put in the onion and sauté till soft.
3.    Put in the purple cabbage and stir on high heat for a minute. Don't be tempted to add water as the color will turn blue!!!
4.    Add the cooked rice and salt and mix well on medium heat.
5.    Cover and cook for another minute.
6.    Remove from heat and serve hot as such /with a raita /crispies.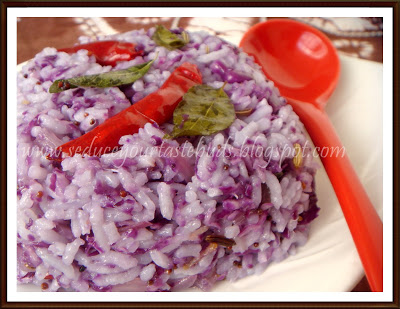 It is so good that it never smells/tastes like cabbage and even the 'cabbage-hater' will love this dish for its color and absence of cabbage flavor!
Other dishes with Purple Cabbage…
A colorful and healthy Purple cabbage-Tofu Parathas
A simple Purple cabbage stir-fry
This day that year…
2009 -Enjoy the health benefits of Sprouts.Make them at Home
2008 – My favorite Tomato Onion Chutney
Bon Appetit…