I saw this recipe here and was so impressed by the ease of preparation that I made it for breakfast today.I had got a bag of buckwheat flour a couple of days ago and I usually use it to make chapathi's and Poori's. Today I made these crepes and it tasted divine!
Galettes de sarrasin or galettes de blé noir as they are called are savory crepes native to Brittany,France.I found these crepes similar to our Dosas but the difference it the crepes are cooked on only one side.So they have to be made very thin.
The savory filling was made from a combo of vegetables sauteed in a little butter. Very easy, very filling and extremely delicious!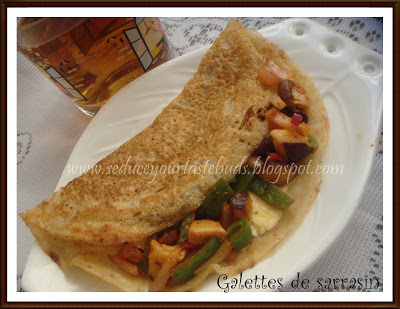 I used:
Buckwheat flour – ½ a cup
Whole wheat flour – 1 cup
Buttermilk – 2-3 cups [ adjust to consistency]
Salt to taste
Cheese slices
For filling:
Butter -1 tablespoon
Mushroom,chopped- ¼ cup
Capsicum,chopped – ¼ cup
Onion- 1,thinly sliced
Tomato -1 chopped into chunks
Heat butter in a pan and put in all the veggies together.
Saute for a few minutes on high heat but take care not to char the vegetables.I like to have mine a little crunchy.If you like you can cook till soft.Keep aside
In a bowl combine both the flours and salt.Mix well
Add buttermilk and whisk well so that there are no lumps. Adjust the consistency by adding water if required.
Let it rest for a couple of hours.
Heat a crepe pan or a flat pan and pour ½ a cup of the batter in the center.Lift the pan and swirl it so that the batter is spread to a circle.Place it on the stove again.
When the edges get crisp and bubbles form on the inside, place a cheese slice on the crepe.Lower the heat.
When the cheese melts, place some filling over the melted cheese.
Fold and serve hot.
Repeat for the remaining batter.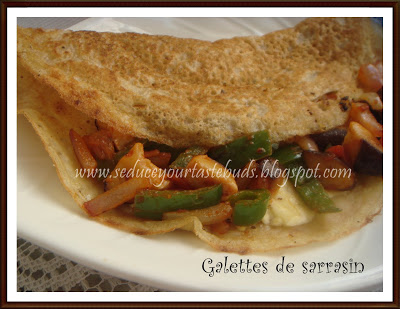 This is being sent to Priya who is hosting AWED -FRANCE,an event by Divya of Chef In You.
Bon Appetit…