Mom used to prepare this when I was small.Them she started trying out other sweets and after I grew up, I almost forgot about it until I saw it in Shilpa's Aayi's Recipes. I wanted to try it and it came out well.
The consistency of the sugar syrup plays a vital role here.If you miss the one string consistency,the sweet gets a little hard.I almost missed it,so the burfi has a light crunch but the taste was good.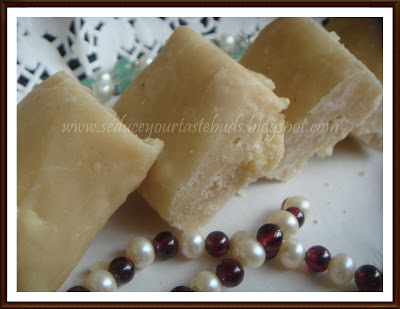 I used:
All purposr Flour / Maida – 1 cup
Sugar – 3/4 cup
Milk- 1/2 a cup
Ghee- 2 tablespoons
Melt ghee in a heavy bottom pan and put in the maida.Roast till it turns light brown and a nice aroma arises.Remove it from the pan and keep aside.
Heat milk and sugar in a pan and bring to boil.Check for one string consistency.
Immediately add the roasted maida and mix well.
Keep stirring it it forms a single mass.
Transfer onto a greased plate and flatten it with the back of the ladle.
Make diamond shaped burfi's with a greased knife while its still warm.
Once cooled take out from the plate and serve.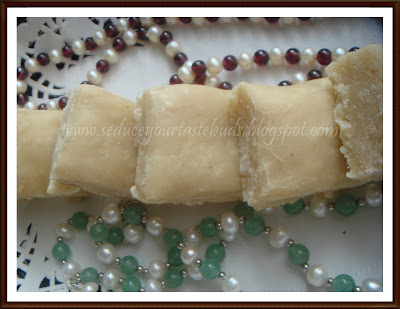 You can also add cardamom powder and saffron strands soakes in a little warm milk in step 2.
Sending this barfi to BB-9 –Holiday Buffet hosted by Nupur of One Hot Stove.
This day That year…
2009 –Qingjiao Tudou – Chinese Capsicum Potato stir fry.
Bon Appetit…