The taro roots found here are a little different than those we get in India.My attempts to make taro roasts have failed miserably. Yet we love it so much that I try to make something with it that is fit to eat. Last week I tried Khadi with Taro and hubby was truly impressed.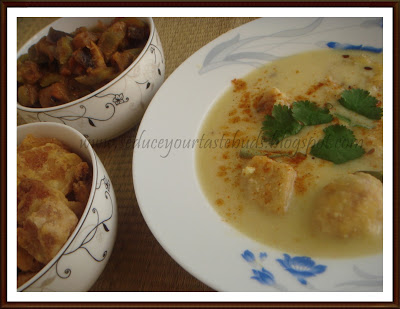 I used:
Taro roots – ¼ kilo
Corn flour- 2 tablespoons
Red chilli power- 1 teaspoon
Yogurt- 1 ½ cups
Besan / chickpea flour- 2 tablespoons
Turmeric powder- a pinch
Asafoetida- a pinch
Garam masala- 1 teaspoon
Mustard- 1 teaspoon
Cumin seeds-1 teaspoon
Curry leaves- a few
Salt to taste
Oil
1. Peel and microwave the taro roots with enough water for 10 minutes or till just cooked. This can also be done on the stove top or pressure cooker. Drain and cut into chunks
2. In a plate take corn flour, salt and a little red chilli powder and mix well.
3. Toss the taro chunks in this mixture till they are well coated.
4. Heat oil in a pan for deep frying and fry the taro till golden brown.Drain and keep aside.
5. In a blender, churn yogurt, besan, turmeric powder and 2 cups of water.
6. Heat a teaspoon oil in a pan and put in mustard, cumin, asafetida, curry leaves
7. When the mustard splutters add the blended yogurt mixture and simmer.
8. Add chilli powder and salt. Mix well.
9. Simmer for 10 minutes. Adjust the consistency by adding a little water if its too thick .If the mixture is watery , simmer for some more time.
10. Just before removing from flame, add the garam masala and the fried taro.Mix well.
Serve with steamed rice and a spicy curry.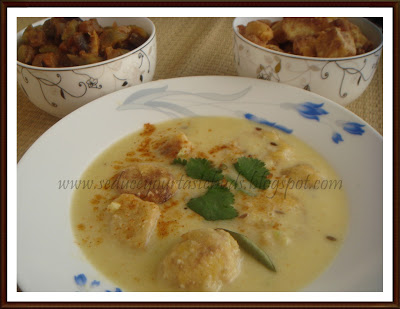 Bon Appetit…