Brinjal curry finds its place once a week on our menu.There are many ways to prepare it and here are the two recipes that we love to have…
Version -1
Recipe source- My mom
You need:
Brinjal – 1/2 a kilo,cut lenghth wise and immersed in a bowl of cold water
Milagai Podi ,coarsely ground – As required
Mustard-1 teaspoon
Gram dhal-1 tablespoon
Red chillies- 2 broken into bits
Curry leaves-a few
Oil- 1 teaspoon
Salt to taste
Heat oil in a pan and put in mustard and gram dhal,red chillies and curry leaves.
Drain the brinjal and add to the pan as soon as the mustard splutters
Sprinkle a little water and cook till the brinjal is 90% cooked
Put in the milagai podi.The quantity depends on your taste.I use around 4 tablespoons for 1/2 a kilo brinjal.I like the curry with more podi.
Add salt and mix well.
Remove from heat after a couple of minutes.
An optional addition is including a couple of tablespoons of fresh grated coconut before removing the curry from the heat.
This curry tastes awesome when mixed with piping hot steamed rice and a dollop of ghee and is a great combo with curd rice.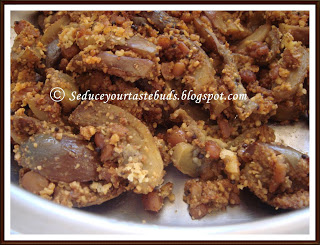 Version 2
Adapted from Sig's Spicy Baby Eggplants
I used:
Brinjal -1/4 kilo,cut lenght wise and immersed in a bowl of cold water
Onion – 1, thinly sliced
Green chillies- 2 ,chopped
Ginger garlic paste-1 teaspoon
Mustard seeds- 1 teaspoon
Red chilli powder -1 teaspoon
Coriander powder – 1 teaspoon
Turmeric powder – a pinch
Garam masala – 1/2 a teaspoon
Curry leaves – a few
Salt to taste
Oil – 2 teaspoons
Heat oil in a pan and put in mustard seeds, curry leaves.
When it splutters put in the onion and green chillies.Saute till the onion is sofy.
Make a paste of chilli powder, coriander powder, turmeric powder, ginger garlic paste with a little water.
Add this to the onion and cook on low flame till the raw smell disappears.
Drain the brinjal from the water and put into the pan.
Add garam masala and mix well so that the masala coats the brinjal pieces.
Cook till the brinjal is soft yet has a litlle crunch.
Remove from heat and serve as a side dish with rice dishes.
This curry tastes awesome with morekulambu/ khadi…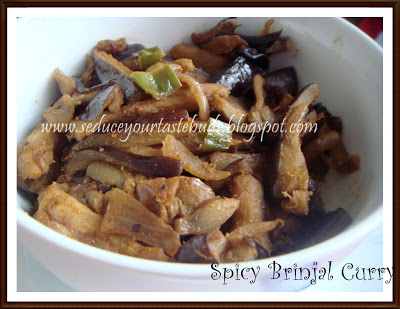 This goes to Jagruti's Complete My Thali event hosted here with the theme Sabji
We,Srivalli,Monika, Jayasree , Priya Suresh, Azeema, Priya Srinivasan, Reva ,Ayeesha , Soumya and Veena
and myself are doing a blogging marathon this month.Check out what's cooking in their kitchen…
Bon Appetit…