Horse gram / Kollu is one of my favorite lentils and I used it make idlis.Though I made this eons ago,its being posted just today.The idlis were fluffy and since they looked different from the regular idlis,it was a hit.
All you need is some freshly ground idli batter and horsegram.[If the batter is very sour,the idli's don't taste good.].A little preparation work and you are rewarded with a healthy idli.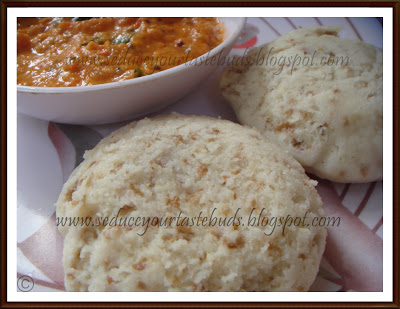 I used:
Idli Batter – 5 cups,fresh.
Horse gram / Kollu – 3/4th cup
Roast the horsegram in a pan and pressure cook with enough water till soft and mushy.Horse gram take a little longer to cook.You can also soak it for 8 hours and then pressure cook it.
Drain the water[and add it to soups,gravies,rasam, etc] and grind the horsegram to a paste.Add a little water if needed but it should not get watery.
Add this paste to the idli batter and mix well.
Check for salt and add if needed,adjust the consistency by adding water.
Grease idli moulds pour ladle full of batter into each mould and steam for 15 minutes or till its done.
Serve hot with a chutney of your choice.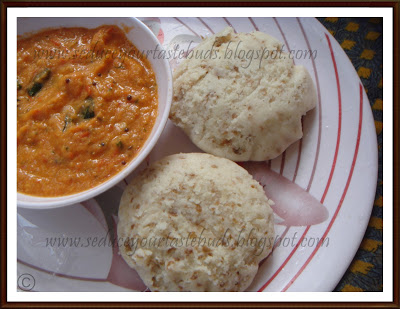 Soft and fluffy idli's dunked in spicy tomato onion chutney
takes you to another world!!!!
Sending this to Satya's Twist the traditional with the theme Idli's
Here are some other Idli varieties
The regular Idli
Rawa Idli
Wheat Rawa Idli
Vegetable Oats Rawa Idli
Oats Idli

Ways to use up leftover Idli
For more recipes with horsegram click here
Check out what my buddies have posted today for the blogging marathon…
Srivalli,Monika, Jayasree , Priya Suresh, Azeema, Priya Srinivasan, Reva ,Ayeesha , Soumya , Veena and Usha
Bon Appetit…