This is a salad that is a burst of flavors and textures.Very simple to put together and yet very filling.This a nice way to make children eat salads.
I have used a mixture of red capsicum,green capsicum,peas,onions that are lightly sauteed and fresh moong sprouts are added later to the puffed rice…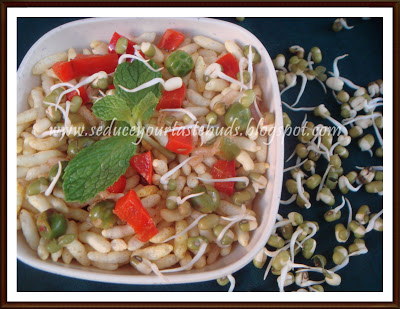 I used:
Puffed rice- 1 cup
Capsicum[red and green] – 1/2 each,chopped
Onion- 1,small,chopped
Frozen peas- a handful
Moong sprouts- A handful
Sambar powder- 1 teaspoon
Salt a pinch[if needed]
In a pan put in puffed rice and sambar powder.Roast on low heat till the puffed rice id heated through,maybe 8-10 minutes.If you make a large batch,let it cook completely and store in an air tight container.Use as and when required.
Similarly, saute onion,capsicum,peas in a pan for a couple of minutes.I did not add oil.Just sauteed it on low flame for sometime.The vegetables were still crunchy.This step is optional.
In a bowl take the puffed rice.Fold in the vegetables,and salt if using
Transfer to a serving dish and generously sprinkle moon sprouts and serve garnished with coriander / mint leaves.
This is a very filling snack / salad
Sending this simple salad to Pari's
Only event
, this month hosted by Prathiba with the theme
Salads.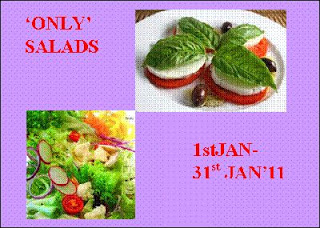 This day that year…
2010 – Sambar Sadham– An easy breezy one pot meal with rice,lentils and veggies.
Kosambari with a twist– A 'no seasoning' version of the traditional lentil salad
Check out what my fellow marathoners are up to today…Srivalli,Monika, Jayasree , Priya Suresh, Azeema, Priya Srinivasan, Reva,Ayeesha , Soumya , Veena and Usha
Bon Appetit…
.