After that crunchy Chaat yesterday,here is healthy chaat with potato,paneer and peas.It is a filling chaat that can double as a side dish.I chanced upon this recipe in Tarla Dalal's website.I modified it a little and I loved the blend of flavors.Here it is for you a healthy yet tasty chaat…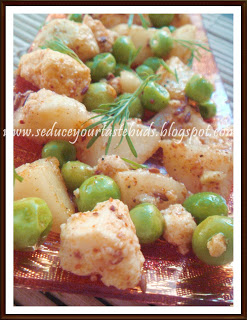 I used:
Potato -1,large Boiled and cubed
Homemade paneer – Cubed,same quantity as potato or can use more.
Frozen peas – a handful
Cumin seeds-1 teaspoon
Pav bhaji masala-1 teaspoon
Chaat masala – 1/2 a teaspoon
Butter -1 teaspoon
Lemon juice to taste
Coriander leaves to garnish
[I did not add salt]
Melt butter in a pan.
Add cumin seeds and splutter
Put in potato,paneer and peas.
Saute for a minute.
Add the pav bhaji masala and mix to coat.
Remove from heat and let it cool and bit.
Transfer to a serving plate.
Drizzle lemon juice and sprinkle Chaat masala.
Serve garnished with coriander leaves
For a vegan version use tofu instead of paneer and any cooking oil instead of butter.
You obviously know where this is heading to.Yea, rite…To Srivalli for her event Kids delight with the theme – Street Food and Flavors of Maharasthtra hosted here.
Let's take a look at my fellow marathoner's kitchen…
Srivalli,Azeema, Bhagi, Champa, Gayathri Anand, Gayathri Kumar, Harini, Jay, Kamalika, Meena, Mina, Padma, ,Pavani,PJ, Priya Mahadevan, Priya Suresh, Priya Vasu, Rujuta, Santosh, Saraswathi, Savitha, Shanavi, Smitha, Sowmya, Suma, Usha, Veena
Bon Appetit…