Last week I went to the library and the first thing I looked up for is,guess what?Cook books you say? Then u are wrong!!Lil Angel was so eager to get a book for herself that she dragged me around begging me for a book.Hmmm..Looks like my priorities have to change.
Anyways, after getting her one bedtime story book,I went to the thrillers section and got a Jeffery Archer novel and then I headed to the cookbook section.
I found this book – Classic Book Of Indian Traditional Cooking by Mrs.Vijai Mehra.The book was a well thumbed copy,1998 edition.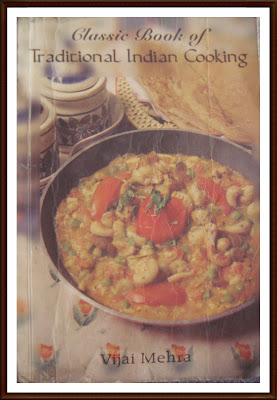 The author – Mrs.Vijai Mehra is said to have mastered the art of cooking as a housewife staying in different parts of India and around the world.She has been teaching cookery to students for a number of years.She is a regular contributor of recipes to leading magazine of India.She compiled this book on the suggestions of friends and family.She believes in whole and tasty food cooked with minimum fat.She says that the recipes in this book were tried and tested by her and it is something she used to prepare for party's and get-togethers.
The recipes are categorized into 10 sections as
Soups and juices – 8
Rice dishes- 21
Parathas and puris – 13
Grams and dhals -9
Curried vegetables-15
Dry vegetable dishes – 21
Curd preparations- 11
Sweets and sweet dishes – 23
Tea time snacks – 24
Chutneys,Pickles and jams – 17
There is also a glossary of Indian terms and English terms.
Recipes like peas and poha pulao,Dahi fried rice,Khasta puris,Nargisi koftas,Banana koftas, Turnip bharta, Dahi pakodi,Gauva jelly sound interesting.
There are just a few clicks of the dishes and they look good.Since I was in a hurry,I did not go through the contents.I picked it up for the title.Later I found that most of the recipes are those which I usually prepare and I have blogged a few of those too. But this book would be of a great help for a novice cook.
At a Glance…
Book –Classic Book of Traditional Cooking
[Click link to buy from Amazon]
Author -Mrs. Vijai Mehra
Publishers – Classic Paperbacks,New Delhi
No. Of Pages – 183


No. Of Recipes – 162
Please note that I have not been paid to write this review.
Happy browsing…