Gujarati Kadhi was born [in my kitchen,of course] after I made the Punjabi Kadi Pakora.After this I went on and prepared Taro Kadhi, capsicum kadhi, Palak kadhi.All these are still in my drafts and today I made up my mind to post Gujarati kadhi.
This kadhi is a lot thinner in consistency when compared to Punjabi Kadi Pakora.A very light and yummy accompaniment for steamed rice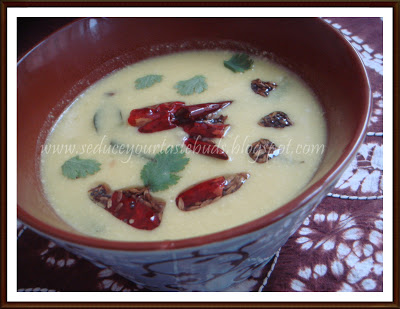 I used:
Yogurt / Curd- 2 cups
Besan / gram flour – 2 tablespoons
Ginger green chilli paste – 1 teaspoon
Sugar- 1 tablespoon
Curry leaves a few
Turmeric powder- a pinch
Salt to taste
For tempering:
Oil- 1 tablespoon
Mustard- 1 teaspoon
Cumin seeds- 1 teaspoon
Red chillies-2 , broken into bits
Asafoetida powder- a pinch
Coriander leaves to garnish
Beat together curd,besan, 2 cups water, turmeric powder, ginger green chilli paste, sugar and salt.[I ran this mixture in a blender jar for a minute so that there are no lumps.]
In a pan put in this blended mixture, curry leaves and bring to a boil.
Simmer for 5- 10 minutes till the raw smell of besan disappears.Add more water if needed.
Meanwhile, heat a small pan with oil and put in the ingredients for tempering.
When it splutters,pour this over the simmering kadhi and let it simmer for another couple of minutes
Remove from heat and serve garnished with coriander leaves.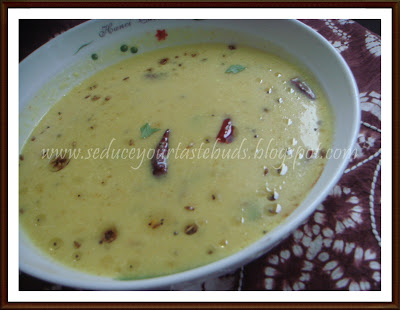 Gujarati Kadhi
Now for the awards….
Archana of The Mad Scientist's Kitchen has passed on these wonderful awards…
The rules say that I have to tell you 7 things about myself.I have already share a few secrets here.Anyways, I will share something else here …
I am in the process of cooking new dishes from the huge collection of recipes that I have.The collection is growing steadily and I can't stop collecting / book marking recipes.
Anytime I go to the library ,Lil Angel runs to the kids section first.So my priorities have changed.Kiddy books first, then some thrillers and finally to the cookbook section.
I love to go out for walks everyday.
My recent passion is gardening.I have started out with growing fenugreek, coriander, oregano and bittergourd in the little patch in our back yard.
Jasmine is my favorite flower.
I love to watch cookery shows on TV . My favorites are Nigella Lawson, Madhur Jaffery , Kylie Kwang.
I love to watch black and white movies.I feel they are better than the movies of today…
I am supposed to pass this award to 15 other bloggers and I am really in a fix now, not knowing whom to include as there are so many out there who deserve these wonderful awards…Anyways,since I have only 15 to choose from,here they are….
Mina of Authentic Vegetarian Recipes
Gayathri Kumar of Gayathri's cook spot
Savitha Ganesan of Savitha's Kitchen
Azeema of Azee's Kitchen Blog
Veena Krishnakumar of Veg Junction
Srivalli Jetti of Spicing Your Life
Rujuta of The world according to Rujuta
Harini – Jaya of Tamalpaku
Gayathri Anand of Kavithavin Kaivannam
Ivan of Evano Oruvanin Diary
Suma Gandlur of Veggie Platter
Sowmya Madhavan of