This is another book that I picked up at the library.The name was attractive enough for me to borrow it.This book has curries from all over the world!This book is authored by Meera Taneja.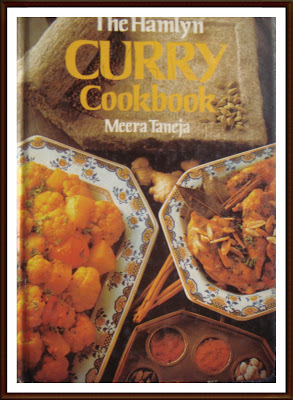 The book starts with tables of useful facts and figures.There are notes on metrication,liquid measure,notes for Americans and Australian users , Oven temperature chart and an Imperial / American guide to solid and liquid measure.
Though the term 'curry' is identified with Indian cuisine, there are other cultures / cuisines using this term.So this book covers recipes from Asian countries,West Indies and Africa.
The book has both Vegetarian and Non vegetarian recipes and the I found there are more Non veg curries in this book than the veg options.
Each section / Country cuisine starts with a one page introduction about the delicacies from that part of the world,the spices used,the methods etc.
The sections are
Indian – divided into North [5],West[5],Central [6],East [4],South [6]
Pakistan -9
Nepal-4
Sri Lanka -11
Burma -10
Thailand -9
Malaysia and Singapore – 8
Indonesian -11
West Indies -15
East African-7
Basic Recipes -11
Glossary
Though this book is called the curry cookbook,there are also a few rice based dishes,salads.Some Curry powder recipes are also present.The basic section has paneer,masala powders,chapathi,basic dhal,coconut milk,boiled rice,zaffran pullao,naan and parathas.
There are a few pages with clicks.Around 4-5 dishes displayed together in a click.All of them are really tempting.
If you are a vegetarian,you may not find a large number of vegetarian curries here.Otherwise this book seems to have everything from simple to exotic non veg curries from across the world.
Some vegetarian curries that I liked are Bahara Baingan from Pakistan,Spicy Potato Kofta from Nepal,Sri Lankan Roti,Kyazan[Cellophane noodles] from Burma,Sajur Lemeng[White vegetable curry],Pacari[Spicy pineapple and coconut curry] from Indonesia,Tomatoes and Okra from West Indies,Clove rice from East Africa
At a Glance…
Book – THE HAMLYN CURRY COOKBOOK
[Click link to buy from Amazon]
Author – Meera Taneja
Publishers -The Hamlyn Publishing Group Limited
No. Of Pages -128


No. Of Recipes – 121
Please note that I have not been paid to write this review.
Happy browsing…