Masala Pav is another way of serving Pav / bun / bread. Actually I found just a couple of differences between this and Pav Bhaji..For Pav bhaji you serve the pav along with the gravy whereas for Masala Pav the gravy is stuffed and coated with gravy and also dressed over the Pav buns.There is a very small change in the ingredients for the masal gravy..Anyways,it is a very nice way to dress up the Pav.And also a neat way to use up leftover buns / Pav.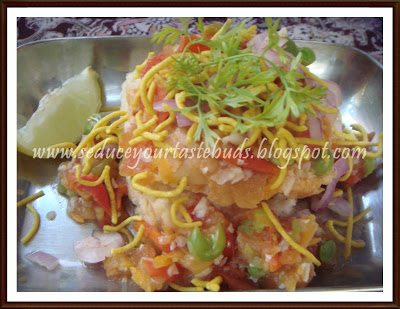 I used:
Pav buns [You can also use regular buns]
Butter
For Masala
Tomato- 2,chopped
Onion-1,grated
Capsicum-1,grated
Peas- a handful
Garlic- 2 large cloves,grated
Turmeric powder – a pinch
Chilli powder- 1 teaspoon
Pav bhaji masala – 1 teaspoon
Butter-1 teaspoon
Salt to taste
To garnish
Onion-finely chopped
Sev
Coriander leaves
Lemon wedges
To prepare:
Heat butter [for the masal] in a pan and put in garlic and onion.Saute till transparent.
Put in the tomato,peas,capsicum and xook for a couple of minutes.
Add the turmeric powder, pav bhaji masala and salt.
Add a little water and simmer.The veggies will get cooked fast a they are grated.
Mash lightly with a potao masher / back of the ladle.
When it thickens ,remove from heat and keep aside.
Slice the bun horizontally and butter the cut sides.
Heat a griddle and toast the buns.
When the sides are brown remove from griddle.
To serve:
Place one half of the toasted bun on a serving plate.
Place a little of the masal on it.
Top it up with the other half.
Pour a little more masal over the bun.
Garnish with chopped onions,sev and coriander leaves.
Serve with a wedge of lime on the side.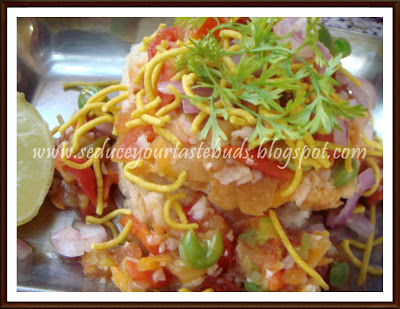 This is also being sent to Srivalli for her event Kids delight with the theme – Street Food and Flavors of Maharasthtra hosted here.
Other chaat recipes @ Seduce Your Tastebuds
Let's peek into my fellow marathoner's kitchen – Srivalli,Azeema, Bhagi, Champa, Gayathri Anand, Gayathri Kumar, Harini, Jay, Kamalika, Meena, Mina, Padma, ,Pavani,PJ, Priya Mahadevan, Priya Suresh, Priya Vasu, Rujuta, Santosh, Saraswathi, Savitha, Shanavi, Smitha, Sowmya, Suma, Usha, Veena
This Day That Year
2009 – Importance of weaning and a few recipes and Poori
Bon Appetit…