Last year during the vacations,my Lil Angel fell sick after dining at a wedding party.She ate very little there yet I was shocked to hear the Pediatrician say she was sick due to food poisoning.He also advised me not to give her food stuffs that were prepared in bulk and served like in wedding parties or restaurants.
Paneer Butter Masala and Butter Naan are the dishes that we order every time we eat out in India during our vacation.As with all the recipes, this one too varies from restaurant to restaurant.This pair is our all time favorite.
Though we don't eat out too often, I stopped eating out for her sake and prepared her favorite restaurant stuffs at home.Lil Angel loves paneer and Tofu and she used to enjoy Paneer Butter Masala from our Favorite restaurant.So I made this at home for her and Lil one was truly impressed!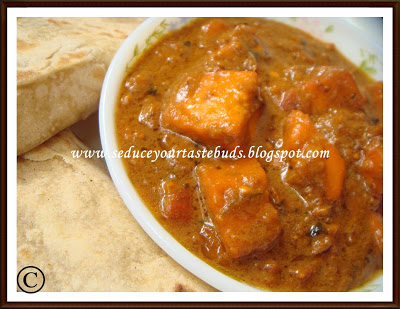 Paneer Butter Masala
To justify the name , I used butter on the higher side and added spiciness and masalas to suit our taste..I also added a little orange food color to give it the restaurant touch.It was a perfect pair with Rotis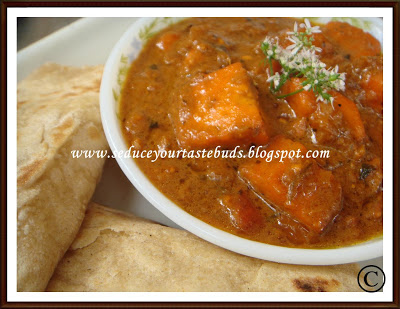 Paneer Butter Masala
I used :
Home made paneer – prepared from 1 liter milk, cubed
Tomato – 3 large, blanched and pureed
Tomato-1,small chopped [I added this for texture.It is purely optional]
Onion-1, large grated
Kasuri methi – 2 tablespoons, lightly roasted
Whole spices – Cloves-2, Cinnamon- a small piece,bay leaf – 1
Ginger Garlic paste – 1 teaspoon
Kashmiri red chilli powder- 1 teaspoon
Red chilli powder- 1/2 a teaspoon
Coriander powder – 1 teaspoon
Butter – 4 tablespoons
Fresh cream- 1 tablespoon
Orange food color- a pinch,dissolved in a tablespoon of water
Salt to taste
Heat butter in a pan and add the whole spices, ginger garlic paste, onion,chopped tomato and saute for a minute.
Add the kashmiri chilli power, red chilli powder, salt , coriander powder and mix well.
Simmer and cook for 5 minutes.Sprinkle a little water if the mixture is very dry.
Add the tomato puree and food color and mix well.Cook till the oil oozes from the mixture..
Put in the paneer cubes and stir gently.Add around 1 cup water to get the gravy consistency.But take care not to make it watery.Simmer for another 5 minutes.
Add the cream and kasuri methi.Stir and remove from heat.
Serve with Roti / Naan / Chapathi or enjoy it as such like Lil Angel does….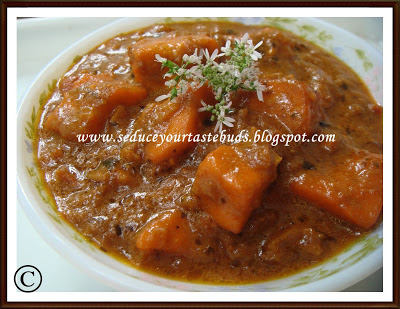 Paneer Butter Masala
Isn't it easy?Rich and creamy Paneer Butter Masala is ready without a hassle at home.Instead of butter any cooking oil can be used but there will be change in flavor.Also firm tofu can be used instead of paneer.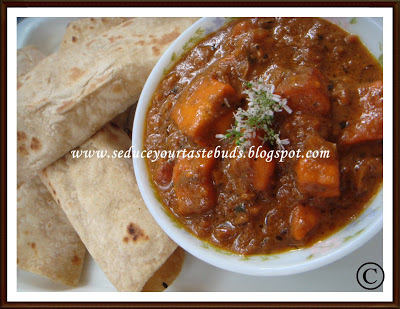 Paneer Butter Masala served with Roti
This delicious curry is being served at Kids delight- Restaurant recreation hosted by Champa of Versatile Vegetarian Kitchen,an event started by Srivalli.Check out the running roundup posted here
Bon Appetit…