Final day of our semester exams-friends talking animatedly amongst themselves-naughty giggles-hurried shopping…The reason – we were leaving on a tour that evening ,to visit a few places in North India. Freedom at last –even if it was just for 20 days. Yes, freedom from exams, boring lectures and of course, freedom from parents!!!!
One of the places we visited was Udaipur –the beautiful city of lakes. We strolled through the beautiful road facing the 'lake palace'. It was a magical place and looked like a page out of a fairy tale. After a camel ride and visiting a few more beautiful places we were ready to resume our journey to another city.
We got into the bus that the guide had arranged for us and I looked at the packed food that the hotel had provided us. A packet of chapathi with mango pickle.It looked dry and I was in no mood to eat it.Most of us had just finished off some chaats and the dry chapathi didn't look very inviting.
I know,I have written this earlier when I shared the recipe for Mooli Paratha and the memories of a very scary night.What I did not mention in that post is about the delicious Pav Bhaji we had in Udaipur.
While walking on the road facing the famous Lake Palace, we[our group of three friends] spotted several small stalls.We immediately knew it was the Chaat stall and hurried to try something from those stalls.After much thinking we settled for Pav Bhaji.We stood around the Chaat wala watching him go about his work.He plopped a huge slab of butter on his large tawa ,cut it inot two blocks and started toasted the Pav Buns with one block of butter.Then he reheated the bhaji with the remaining butter.The aroma was so delightful that our already hungry tummies started growling loudly.
We sat down on the chairs that were neatly arranged between the stalls and he placed a large bowl of bhaji and 2 sets of toasted Pav on the table.We stated eating when he got another 2 bowls and more Pav.We were shocked!So much food for Rs.10/- only!!But the problem was if we could finish off the food.
We did finish them off and we vouched it to be the best we have ever eaten.Till date I can strongly say that it was the best Bhaji I have tasted.The right amount of spices and spiciness.
With these memories, I prepared Pav Bhaji at home yesterday.Though I have been buying Pav buns to prepare this dish the whole of last month, somehow I could not make it.Lil Angel used to savor it as such.The pav bun that I got this time was so soft that I could not even slice it properly!So when she was asleep ,I made Pav Bhaji and the house smelt like a Chaat shop.She woke up after her nap and was all smile when she came running to see what was smelling so good.
My folks enjoyed it.Lil Angel loved it as I had made it a little less spicy and I was mighty glad that all those veggies were going in without a complaint.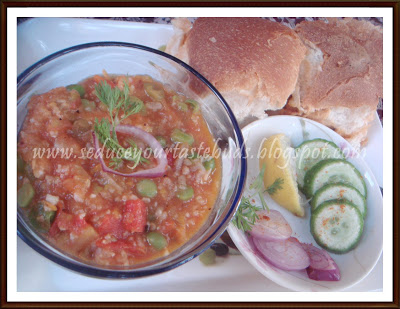 How to prepare Pav Bhaji:
For toasting Pav Buns
Pav Buns
Butter
For Bhaji:
Potato- 1,large,boiled,peeled and mashed roughly
Tomato-2,finely chopped
Capsicum-1,small,finely chopped
Carrot-1,small,grated
Onion-1,grated
Cauliflower- a few florets,grated
Frozen peas- a handful
Ginger garlic paste- 1 teaspoon
Chilli powder- 1/2 a teaspoon
Pav bhaji masala -1 teaspoon
Butter – 1 teaspoon[You can also use any cooking oil]
Salt to taste
Coriander leaves to garnish
For serving :
Onion slices
Cucumber slices
Lemon wedges
Heat a pan with the butter.
Put in onion and ginger garlic paste and cook for a minute.
Add all the other veggies and cook till oil oozes out.Since the veggies are grated / finely chopped they will get cooked fast.
Add chilli power,pav bhaji masala ,salt and stir to mix
Add half a cup of water and mix well.
Mash with a potato masher or the back of the ladle.
Add more water if needed but take care not to make the gravy watery.Simmer for 5 minutes.
Remove from heat.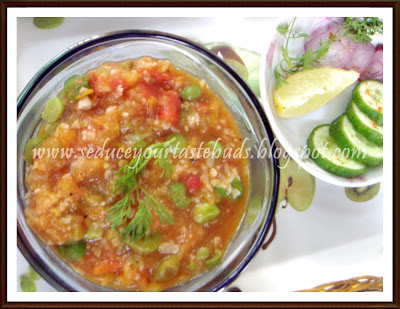 Slice the pav buns horizontally and butter both the sides.
Place them on a heated griddle and cook till the buttered sides are brown.
To serve
On a serving plate,place the toasted buns and a bowl of Bhaji garnished with coriander leaves. In another small plate place a few slices of cucumber, onion and a lemon wedge.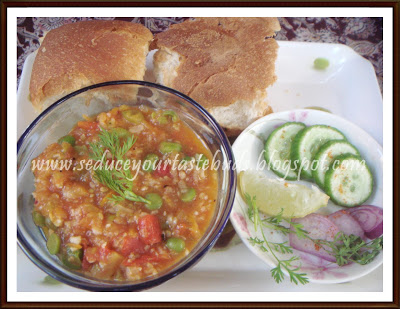 This Pav bhaji is being packed and sent to Srivalli's Kids delight with the theme – Street Food and Flavors of Maharasthtra hosted here.
I can smell delicious aroma's from my fellow marathoner's kitchen.Let's take a look here…
Srivalli,Azeema, Bhagi, Champa, Gayathri Anand, Gayathri Kumar, Harini, Jay, Kamalika, Meena, Mina, Padma, ,Pavani,PJ, Priya Mahadevan, Priya Suresh, Priya Vasu, Rujuta, Santosh, Saraswathi, Savitha, Shanavi, Smitha, Sowmya, Suma, Usha, Veena


This Day That Year
2010 – Beans Paruppu Usili
2009 – Instant Garlic Pickle and Grountnut gravy
Bon Appetit…