Chaats would be incomplete without these crispy Sev.Here is a simple way to prepare this Sev.It can also be savored as a snack with coffee / tea.
I used:
Gram flour / Besan – 1 cup
Rice flour – 1 tablespoon
Ajwain – 1/2 a teaspoon
Salt to taste
Hot oil -1 teaspoon
Oil for deep frying
Soak Ajwain in hot water for 10 minutes.Grind to a smooth paste.Filter the liquid and discard the ajwain.This step is kind of mandatory as the ajwain,when added whole, will clog the holes in the Sev/ murukku press.
In a bowl combine gram flour, rice flour, salt and hot oil.
Carefully mix and add the ajwain extract prepared in step 1.
Make dough with a little water.The dough must not be very stiff or very sticky.
Heat oil for deep frying
Fill the Sev/ murukku press and press sev into hot oil..Deep fry till golden brown and crisp
Drain,cool completely.Crush lightly and store in air tight containers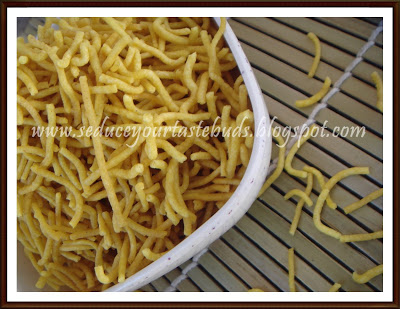 Instead of Ajwain, garlic extract/ fine paste of garlic can be added for Garlic Sev.Add red chilli power and garam masala for Masala Sev,spinach puree can be added for Spinach Sev..The variations are numerous.Just use your imagination…
Bon Appetit..