This is probably my 5th post of the day.Yesterday my dear PC decided to turn hostile and I have been struggling with it.Even now I am not able to view my own blog!Don't know whom to blame- my PC or the net.Either way its a been bad for me.Yet I wanted to post some basic recipes before I go on to the Chaat recipes.
This is another famous chaat from the streets of Mumbai.There are several varieties / variations to this recipe and here is mine.Sev Puri as the name suggests has lots of crunchy Sev as the garnish along with crunchy Papdi and a medley of veggies laced with tongue tickling chutnies that will leave us craving for more…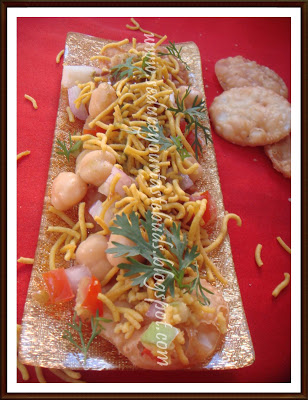 I used :
I am giving the ingredients without the quantity.You can add according to your choice / preference
Papdi
Potato- boiled and roughly mashed
Onion-finely chopped
Tomato-finely chopped
Raw mango- finely chopped
Boiled channa
Coriander mint chutney
Dates Tamarind chutney
Chaat Masala


To Garnish
Sev
Coriander leaves
Arrange the papdi in a serving plate.
Top each papdi with the vegetables and boiled channa.
Drizzle both the chutneys over the vegetables.
Sprinkle Chaat masala over them.
Garnish with Sev and coriander and serve immediately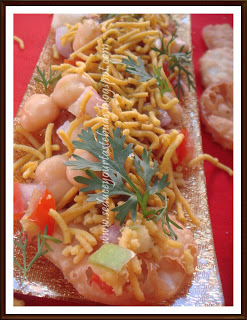 Indulge in a tangy, crispy and yummy Sev Puri Chaat….
This is also being shipped off to Srivalli for her event Kids delight with the theme – Street Food and Flavors of Maharasthtra hosted here.
I wonder what is cooking in my fellow marathoner's kitchen.Let's take a look here…
Srivalli,Azeema, Bhagi, Champa, Gayathri Anand, Gayathri Kumar, Harini, Jay, Kamalika, Meena, Mina, Padma, ,Pavani,PJ, Priya Mahadevan, Priya Suresh, Priya Vasu, Rujuta, Santosh, Saraswathi, Savitha, Shanavi, Smitha, Sowmya, Suma, Usha, Veena
Bon Appetit…