I am back after a week long blogging break.If you are trying to guess what I did during this one week,here is the gist.I watched world cup cricket for some time, was glued on to NDTV and CNN catching up with the news of Japan's devastation, took Lil Angel around and most important of all I did not enter the kitchen!
So after this break, here I am with a colorful recipe.After the success with pretty pink pooris, I tried beetroot chapathis.I made a few changes to the pretty pink poori dough.The result was good.Paired with greens stir fry,it was a part of our lunch menu.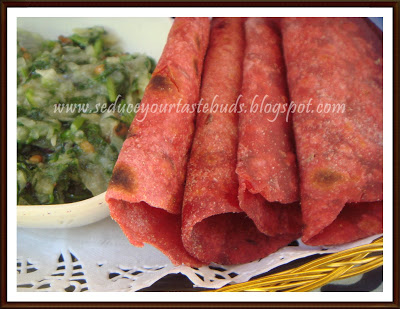 I used:
Whole wheat flour – 3 cups
Beetroot- 1,small, peeled
Cumin seeds- 1 teaspoon
Ginger garlic paste- 1 teaspoon
Chilli powder- 1 teaspoon
Salt to taste
Roughly chop the beetroot and pressure cook it till soft.Cool and puree without adding water.
In a bowl put in all the dry ingredients and mix well.
Add the beetroot puree little by little and knead into a firm dough.[Use the quantity that is just sufficient to make the dough.If you have extra puree use it in soups/ gravies.]
Pinch out small balls and roll into chapathis.Dust a little wheat flour if it is sticky
Cook on a heated griddle till brown spots appear on both sides.Drizzle a little oil if needed.
Serve with a side dish of your choice.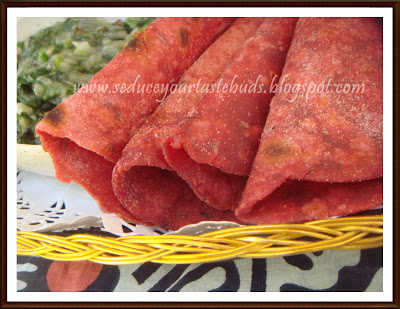 This chapathi is ideal to pack for lunch box too…
This day that year…


2010 – Microwave Peppered Capsicum rice
Bon Appetit…