What would you call yourself if you find yourself with a book filled with a step by step guide to cake decoration using ready made sponges?I call myself very lucky.I don't have an oven and am planning to buy one in the near future .I got this book years ago[2 to be exact].I have always admired and craved to make some cakes at home.That's when I found this book on the list of books to choose from while subscribing to be a member at Tarla's site.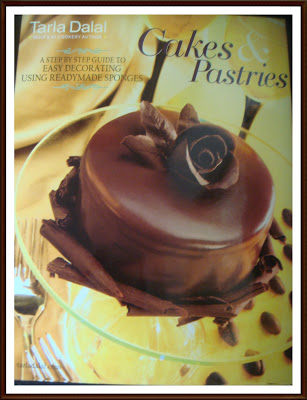 This book made my dream come true.It offers a step by step guide to easy cake decoration using ready made sponges.This book makes it clear that we need to have a good hand on the basics of cake decoration so that the we can get more creative.So it explains all the techniques,ingredients and instruments needed.
Though one needs a lot of patience and experience in decorating cakes,this book has the ingredients,equipments all listed with a brief description and picture so that its all the more easy to follow and practice.
There are basic recipes for sponge cakes using condensed milk,oil,curds,microwave method,fat less sponge cakes,rich sponge cakes with eggs.There is also a section dealing with the cake defects.
Each and every recipe has a step by step pictorial description that makes it very easy to understand.
Some interesting cakes featured in the book are Kitkat cake,Strawberry hide and seek,Exotic fruit cake,Death by chocolate pastry,Molten brownie.
A must buy for anyone who loves to bake and decorate cakes!!
At a glance
Book –Cakes & pastries
[Click link to buy from amazon]
Author – Tarla Dalal
Publisher – Sanjay & Co.
No. of Pages -95


No. of Recipes -22 recipes + a lot on basics to cake decoration.
Price -Rs.250/-
Please note that I have not been paid to write this review.
Happy Browsing…