Crunchy munchy snacks are everyones favorite.Lil one enjoys vadai a lot.I had some Sprouted moong dhal at home and was wondering what to do with it.Then came this idea of preparing vadai with it.I followed the same method as the Masal vadai.
I used:
Sprouted moong dhal – 1 cup
Onion- 1 ,finely chopped
Fennel seeds- 1 teaspoon
Ginger garlic paste – 1 teaspoon
Red chilli powder -1/2 a teaspoon
Salt to taste
Oil for deep frying
Grind the sprouted green gram with very little water.There should still be a few whole green gram even after grinding it so just it in a blender for couple of minutes.
Transfer this onto a bowl and add onion, red chilli powder, fennel seeds, ginger garlic paste and salt to taste.
Mix well.
Heat oil in a pan for deep frying.
Roll out small balls and flatten them lightly.
Drop them gently into the hot oil and deep fry till golden brown on both side.
Drain on absorbant paper.
Serve as a snack with coriander chutney / tomato ketup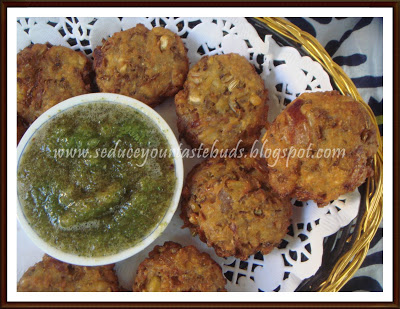 I can still remember how much Lil Angel enjoyed these vadas.After each bite she kept saying 'Crunchy Munchy',crunchy munchy…..!
Other vadai / lentil fritter recipes
Paruppu vadai – Lentil Fritters
Kollu – Paruppu masal vadai – Horse gram – Lentil fritters
Paruppu vadai with herbs
Ulundhu vadai – Urad dal fritters
Rasavadai – Urad dal fritters soaked in spicy rasam
Thayir vadai – Urad dal fritters soaked in yogurt
Check out the wonderful recipes that are being prepared for the blogging marathon…
30 Minutes Meals: Gayathri Anand
Baked Goods: Monika
For On Going Events: Gayathri Kumar, Usha
Kids Friendly: PJ, Savitha, Smitha, Srivalli, Veena Aravind
Rice Varieties: Champa, Divya, Padma
This day That year…
2010 – Posted the roundup for the No Cook Event which received 100 entries!
2009 – Beetroot Raita
Bon Appetit…