A few months after Lil Angel was born,while browsing through at a books fair,I searched for some cookbook that has some basic recipes and found Tarla Dalal's 'The Delight's of Vegetarian Cooking.I purchased it without a second thought.Later after I moved to China,I left it behind at mom's place and almost forgot about it.
This time I made sure to picked up all my cookbooks and recipe folders [more than 30 of them] and was so happy to read them.Yes,I actually read each page like a novel,for each book and each recipe that I noted down were chokeful of memories!!!
This book – Tarla Dalal's 'The Delight's of Vegetarian Cooking has 250 recipes which are practical quick and easy.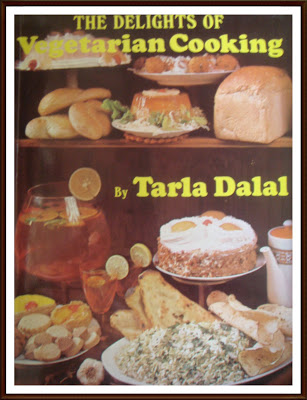 This book covers everything from weight and measurement,notes on ingredients,terms used in cooking.
The recipe section is very intresting and we have a wide range to choose from
Drinks – 8
Appetisers – 11
Soups -17
Soup Accompaniments – 4
Salads -12
Indian Dishes – 32
Burmese Dishes – 5
Mexican – 9
Western style dishes – 21
Rice Dishes – 12
Ice creams – 11
Desserts – 25
Cakes and Pastries – 24
Biscuits – 15
Snacks – 10
Children's Party Fair – 20
Basic Recipes – 27
This book is truly a treasure for anyone who loves cooking vegetarian food, for those just starting to experiment with cooking.
This book has very few pages with pics of the dish yet it has some delightful recipes.The ones I found very appetizing are Strawberry soup,Vichyssoise- a classical cold soup made with white sauce and celery,leeks and potato,Rasagulla sabzi where the sweet rasagullas are turned into koftas,Burmese sphagetti with an eastern flavor,Mexican Tacos,Tomato stuffed with sphagetti,Shahi Pulao with Nawabi curry,Peach Romanoff,Eggless strawberry cream pie,Eggless marble cake,Melting moments biscuits,corn bhel,pineapple cheese sizzlers,condensed milk mayonnsise,jam sauce etc.
In fact all the recipes are so good that I had a tough time stopping myself at drooling over them.
At a glance
Book -The delights of vegetarian cooking
Author – Tarla Dalal
Publisher -Bimal Mehta for Vakils,Feffer and Simons Pvt.Ltd
Mumbai.
No. of Pages -182


No. of Recipes -250
Price – Rs.195/- [Purchased in 2008]
Please note that I have not been paid to write this review.
Happy Browsing…