Talking of Diabetes in blogging marathon, I wanted to share something about a cookbook on cooking exotic dishes or rather adapting dishes to suit diabetics.Though we all do adapt regular dishes to suit the diabetics in our family,this one has international recipes that are so tempting and surely everyone will love them as they are fit for those watching weight too and can be enjoyed by the other non diabetic members of the family.
This is one of the books that I chose from Tarla Dalal's collection when I subscribed for her gold membership.This books also falls under the 'Health series'
Tarla writes in the intro that the recipes here are diabetic friendly versions of luscious,exotic foods.It features 55 recipes covering Indian.Chinese,Mexican,Thai,Italian and continental style of cooking.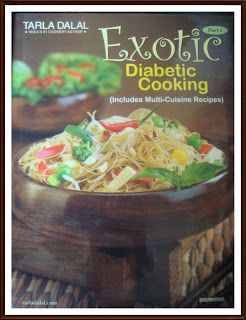 The first thing that I noticed was that each page has a tempting click of the dish so it makes us all the more eager to try them out.Each recipe also has a nutritive value per serving chart that makes it easy to plan meals by calories.Moreover you know what you are eating.
There are a couple of small mistakes in the book and frankly I did not expect to see them in Tarla's book. In one of the recipes titles say Coffee -walnut mousse but the ingredient list does not show walnuts at all!!!Apart from this the book is really nice.
There are 7 recipes each under Indian.Chinese,Mexican,Thai,Italian and continental style,desserts,6 basic recipes.
Whether you have a diabetic person at home or not ,it is a book worth possessing for it has some exotic dishes like Refrescho Regio,Grape surprise,Methi dal koshimbir,Vegetable dimsum,Vegetable Au Gratin,Rose and almond ice cream,Oats and orange rabdi,Tortillas.
At a glance
Book – Exotic Diabetic Cooking/Part 1
[Click link to buy from amazon]
Author – Tarla Dalal
Publisher – Sanjay & Co.
No. of Pages -95


No. of Recipes -55
Price -250/-[I got it as a gift with the membership subscription]
Please note that I have not been paid to write this review.
Happy Browsing…