Today's post has many amazing 'features'. It is guilt free, has no added sugar yet sweet, cool and refreshing, almost instant, very delicious and best of all does not need an ice cream maker!
When I hosted a No cook event some time back, Madhuri of Cook Curry Nook sent me this Ice cream . I was so amazed to see how easy and yummy it was.
Ever since I wanted to make this but as soon as bananas are seen in the fruit basket, it disappears before I remember to put some in the freezer. A couple of days ago I managed to chop up some bananas and put it to freeze as soon as I came home with a dozen bananas.
Then I made this just a few hours ago and surprised Lil Angel with a bowl of this delicious ice cream.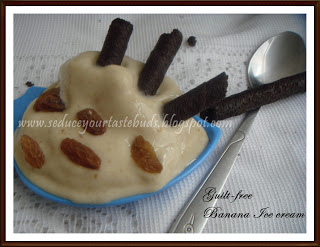 I used:
Bananas -1 large, peeled and thinly sliced
Milk- 1 tablespoon
Raisins- a few
1. Freeze the banana slices.
2. When frozen remove from freezer and grind it along with the raisins and a little milk.
3. Immediately scoop out into bowls and serve with a topping / garnish of your choice.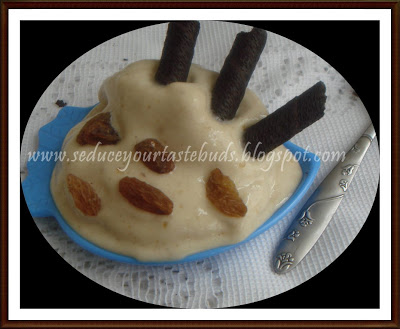 Isn't it easy and guilt free too!!!By the way, I said this is an almost instant icecream as long as you have frozen bananas ready in your freezer to remember to put them there.This ice cream is very sweet. In fact I have not added sugar , yet it was so sweet!
The picture does not do justice to the taste. The ice cream was melting away before I could click. But be sure to try it to believe the yumminess of this guilt free dessert….
This goes to Srivalli's kid's delight event hosted here with the theme Cool Comforts
Catch up with my fellow marathoners in BM#5 and check out what they are cooking today…
Curry in a hurry under 30 min: Priya Suresh, Srivalli, Usha
Seven Days of Colorful Dishes Kid's Special: Vardhini,
Seven Days of Indian Sweets: Harini, Suma, Veena
Seven Days of Regional Specials: Aarthi, Kalyani, Pavani, Shylaja
Summer Coolers: PJ– That's me, Vaishali
Under 15 mins Quick Breakfast: Sushma Pinjala
Happy cooking…