Oreo cookies is something that I love to indulge in.This contagious craving was caught from my Lil Angel who loves it more than any other biscuit / cookies.Often there is a small 'fight' for the last Oreo cookie and invariably she wins.
So when we went to pizza hut last night both of us jumped up to order Oreo cookies milkshake. The picture on the menu card looked so appetizing that it made us want to grab it off the page.The Dark brown colored drink gave me an impression of a chocolate milkshake and we were eager to taste it.But something in me stopped me from ordering 2 of them so only one for Lil Angel arrived first along with the starters.
Just the look of it put off our desire and Lil Angel did not even want to taste it. The reason – It looked nothing like what was depicted in the menu card. Dull grey in color with some chopped nuts [ which was not seen on the click] and very slushy with loads of scrapped ice. The taste too was not very encouraging. I felt RMB 20 go down the drain, well literally. I was not able to drink even half the quantity. We were totally disappointed . All the way home Lil Angel kept telling me that she did not like that milkshake and asked me to make it at home for her. I agreed but was wondering how to bring out that effect.
Today morning, we [Lil Angel and me] set out to prepare this milkshake and she was truly impressed by the color and the taste. One innocent question of hers made me understand how well my folk,Lil angel included,understood me. Wondering what she asked! Well, as I was blending the milkshake she came up to me and asked ' Do I get to drink all of this as soon as you take a picture for your blog'. I was amazed and touched to see how well she understood my passion.
This tasty Oreo cookie milkshake is exclusively for my Lil Angel .It was served immediately after the photo session and she enjoyed every sip.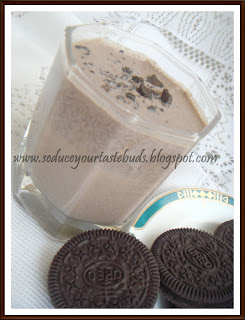 I used:
Oreo cookies – 4
Drinking chocolate powder- 1 tablespoon
Chilled milk – 200ml
Break off a small piece of the cookie and crush it. Keep it aside. It will be used as the garnish
Powder the remaining Oreo cookies.
Add drinking chocolate powder and milk and blend till frothy
Serve immediately garnished with crushed Oreo bits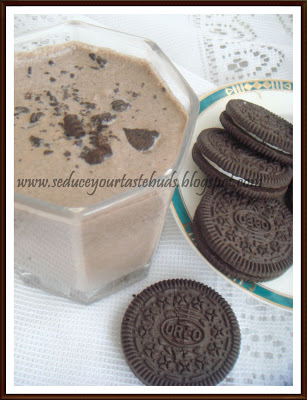 Note :
I did not add sugar.
You can adjust the quantity of drinking chocolate to suit your taste
Tastes best when served chilled
Don't worry if you see a thick layer on top even if the milkshake rests for a couple of minutes. It the ground cookie bits that are surfacing. There is no change in taste though.
You can also add a few crushed ice cubes to the milkshake
This goes to Srivalli's kid's delight event hosted here with the theme Cool Comforts , Nayna's Mocktails and cooler event, started by Pari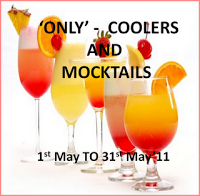 and also to Divya's Show me your summer cooler event
This day That Year
2010 – Poondu Kuzhambu – Tangy Garlic Gravy
2008 – Sun dried Potato Crisps
Let's take a look at my fellow marathoners in BM#5 and find out what they have dished out today…
Curry in a hurry under 30 min: Priya Suresh, Srivalli, Usha
Seven Days of Colorful Dishes Kid's Special: Vardhini,
Seven Days of Indian Sweets: Harini, Suma, Veena
Seven Days of Regional Specials: Aarthi, Kalyani, Pavani, Shylaja
Summer Coolers: PJ[ That's me], Vaishali
Under 15 mins Quick Breakfast: Sushma Pinjala
Bon Appetit…