Porridge in an integral part of the Chinese breakfast.Most of my friends prefer to have porridge with some sour vegetable pickle[non spicy] and an egg. Porridge is a regular at our house too but only on weekends. I prepare the simpler ones and we love to have it with some lemon pickle and a couple of More Milagai[Sun dried yogurt chillies]. Sometimes I make this porridge with Chinese Yam and Goji berries. A simple meal that is really light on the tummy yet filling.
Shanyao – Chinese yam , Gouqi – Goji berry. Zhou – Porridge.Goji berry has a lot of health benefits. You can read about it in my earlier post on Goji berry.More about Chinese Yam here.Also take a look at the other Chinese Ingredients in the series titled Chinese ingredients Unraveled.
Chinese yam gets a little sticky when cooked and it is a yum ingredient in the porridge. Goji berry imparts a very light sweetness.Usually salt is not added but I add a little to mast the tinge of sweetness.
I used:
Chinese Yam – 50 grams
Goji berry – 10 numers
Rice- 50 grams
Salt to taste
Wash and peel Chinese yam. Cut into small pieces.
Wash rice a couple of times till the water runs clear.
In a pressure cooker vessel, put in rice, Chinese yam, goji berry and lots of water[ I usually don't measure water for porridge and generally add 4 times the water in proportion to rice / porridge mix..So for porridge add around 2 cups more than the rice : water ratio than what you will usually add]
Pressure cook for 15 minutes or till done. The yam should not 'melt' in the porridge. It should still have a light crunch.
When the pressure releases,mix well and if it is thick add more hot water.
Add salt,mix and serve hot.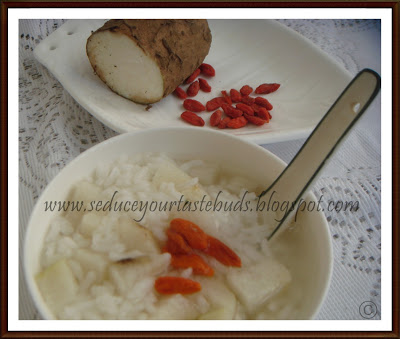 This porridge is generally for one serving. If you want it as a light meal or a part of a meal it serves two.
The other Chinese dishes in my blog can be found here.
Other recipes with Goji Berry
Goji berry Tea
Sweet Potato mash with Goji Berry
Check out the Blogging Marathoners doing BM#5 along with me
Curry in a hurry under 30 min: Aarthi, Divya, Jayashree, Jayasree, Kaveri, Pavani,
Seven Days of Indian Sweets:Gayathri, Priya Suresh,
Seven Days of Microwave Meals: Monika,
Seven Days of Regional Specials: Cool Lassi(e), Harini, Vaishali, Suma
Seven Days of Colorful Dishes Kid's Special: Kalyani
Summer Coolers: Kamalika, Srivalli
Bon Appetit…