For the final day of BM #6, we were randomly paired with another blogger from the theme.I was paired with KAlyani of What's Cooking??. Keeping up with the theme for this marathon, I searched for something with oats in her blog and found quite a few.Some of them were bakes so I settled for this savory Oats crepes or Healthy Oats Dosa.
Though I already have an Instant Oats Dosa in my blog, Kalyani's version was a little different and I am really glad that I tried it. I made very few changes in the recipe,like I made a paste of green chillies , coriander and ginger instead of adding it straight away into the batter. Little Angel is not fond of biting into these stuffs when she has a meal and I found this a better way to incorporate the flavors.Also Kalyani soaked the oats and then ground it I powdered the oats and then let it sit for a few minutes..Apart from this I pretty much followed the recipe as it is.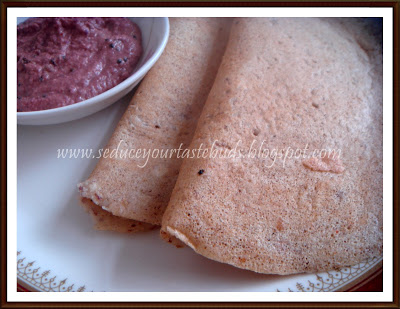 Savory Oats Crepes served with
Purple cabbage Chutney
I used :The original recipe is here
Instant oats – 1 cup
Rice flour – 1/2 a cup
Sooji / Semolina – 1/4 cup
Ginger- a small piece
Coriander leaves – a few
Green chilli – 2
Cumin seeds – 1/2 a teaspoon
Salt to taste
Toast the oats and rawa separately in a pan. Keep aside.
Grind to a fine powder when cool.
Make a paste of green chillies, ginger and coriander leaves using a little water.
In a bowl take the rawa-oats powder , rice flour, cumin seeds and salt. Mix well.
Add water little by little and make a batter of dosa batter consistency.
Add teh ginger-green chilli paste and mix well.
Let it sit for a couple of minutes or till you get the side dish ready.
When ready to prepare, mix well once again[you may find a layer of water above the batter.It is ok]
Pour a ladle ful on a heated griddle and prepare dosas as usual.
Serve hot with a side dish of your choice.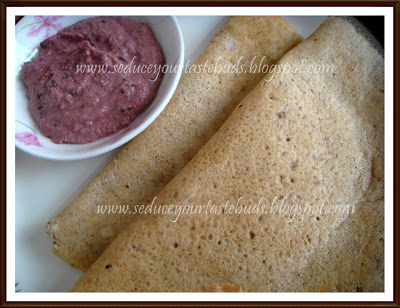 Savory Oats Crepes served with
Purple cabbage Chutney
Check out blogging marathon page to see what my fellow marathoners are cooking this week.


Read more about oats and the delicious recipes that can be prepared with it here
This day That year….
2008 – Bread Thayir Vadai
Bon Appetit…