The third post for Blogging Marathon   is a side dish- A mixed Vegetable Kurma.I have already posted a Kurma recipe long back .This one is from Sanjeev Kapoor's No Oil Vegetarian Cooking.The book review is posted here. It is a nice book with yummy and healthy recipes that are prepared without oil. If you are interested, click this amazon.com link No-Oil Vegetarian Cooking
to buy the book.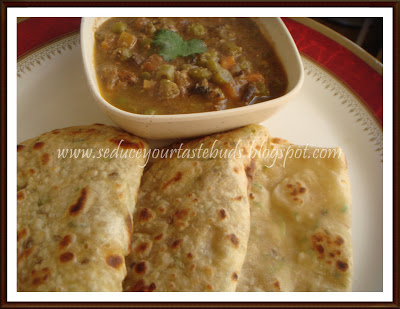 I used:
Mixed vegetables- 2 cups, chopped
[I used carrots, peas, beans,cauliflower,potato, capsicum]
Onion- 1,large chopped
Tomato- 1,large ,pureed
Tamarind pulp- 1 teaspoon
Garam masala- 1 teaspoon
Curry leaves a few
Coconut milk – 1/2 cup
Salt to taste
For masala paste
Grated coconut – 5 tablespoons
Garlic- 5 cloves
Ginger – 1″ piece
Red chillies -2
Coriander seeds- 1 tablespoon
Cumin seeds- 1 teasoon
Poppy seeds- 2 teaspoons
Fennel seeds- 1/2 teaspoon
Coriander leaves to garnish.
Parboil the vegetables on the stove or microwave the vegetables.
Heat a non stick pan and roast the ingredients under masala paste till light brown. Let it cool.
Grind to a paste adding a little water. Keep aside.
Heat a nonstick pan and add onion and saute till translucent.
Add curry leaves and masala paste.Add 1/2 cup water amd bring to boil.
Put in the tamarind pulp, boiled vegetables, tomato puree,salt and bring to boil.
Add more water if you want the gravy to be watery. I added around 1 cup.
Simmer till the gravy thickens a bit.
Add the coconut milk and garam masala.Stir well and remove from heat.
Serve garnished with coriander leaves.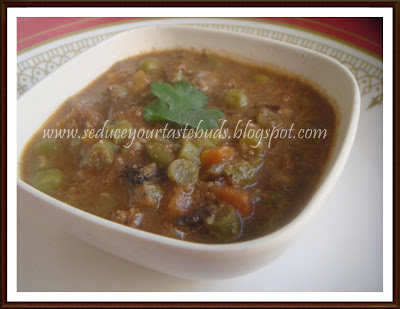 Check out blogging marathon page to see what my fellow marathoners are cooking this week.
This day That year…


2010 – Read a food fiction and relish a bowl of Comforting beetroot soup
Bon Appetit…

.