There are days when I want something elaborate for dinner. If I am not in a mood to prepare something elaborate then I prefer something delicious but should just take away just a little of my time.On one such day, I prepared this.I cooked this Aloo Mattar in the microwave,so this is very quick and a nice side dish to go with Chapathi / Roti.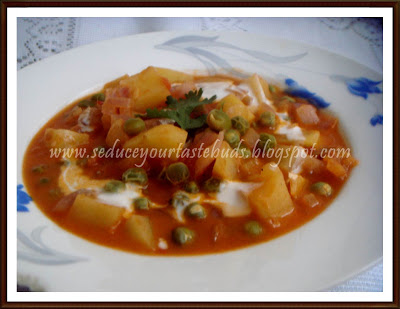 I used:
Potato – 1 large,peeled and cubed
Frozen peas – around 200 grams
Onion – 1, chopped
Tomato – 2
Ginger garlic paste- 1 teaspoon
Thick yogurt- 1/2 cup
Coriander powder- 1 teaspoon
Red chilli powder- 1 teaspoon
Garam masala – 1/2 teaspoon
Cumin seeds- 1 teaspoon
Oil- 1 teaspoon
Salt to taste
A little yogurt and chopped coriander leaves to garnish
Blanch tomato. Cool and puree. Keep aside.[the puree I made was a little chunky as we like to bite into little bits of tomato in the dish. You can also use store brought tomato puree]
In a microwave proof bowl, put in cubed potato and add a little water and microwave on high for 8 minutes or until 90% done.
As soon as its done,add the peas to the potato,cover and let it rest inside the microwave for a couple of minutes.
In another microwave proof bowl, mix together oil and cumin seeds and microave on medium for 1 minute.
Add ginger garlic paste and microwave for another minute.
Next put in chopped onion and mix well.Microwave on high for 2 minutes or till the onion turns translucent.
Put in tomato puree, red chilli powder, coriander powder, garam masala and salt.Mix well.
Return it to the microwave and cook for 5 minutes, stir at the end of 3 minutes and add a little water if the mixture is dry.
Add the potato and peas along with the water used to cook it.[Take care not to make it too watery].Microwave for 5 minutes or till you get the right consistency and the potato is fully cooked.
Add curd and mix well.Microwave for 2 more minutes and let it stand inside the microwave for another 2 minutes.
Serve garnished with a swirl of yogurt and chopped coriander leaves.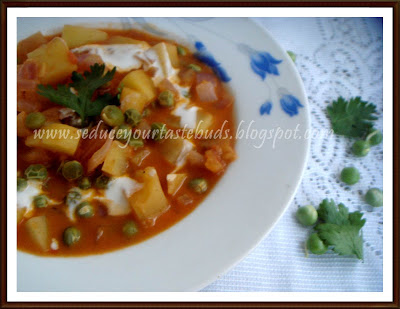 Note:
To make it more delicious, deep fry the boiled potato cubes[on the stove top] before adding to the tomato puree mixture.
Fresh cream can be used instead of yogurt.
Add a couple of teaspoons of cashew paste/ powder in step 7 for a rich and creamy gravy.
Fresh peas can also be used
A little bit of Kasuri Methi [Dried fenugreek leaves] can also be added a minute after adding the curd in step 10 .
The cooking time will vary with the MW brand / voltage and the quantity of ingredients used. So adjust the timings accordingly.
Sending this to
MEC- Pot Luck Party
hosted by Srivalli @ Cooking 4 All Seasons whose event is celebrating its 4th anniversary and to
Subzi's for Roti
hosted by Radhika @ Tickling Palates.
This Day That Year….
2010-
Tamatar Ka Shorba
– Indian Tomato soup – Microwave Version. Incidentally, I made this post for Srivalli's MEC event themed Potluck party which celebrated its 3rd anniversary last year……
2009 – Pachai Payaru Kadaiyal / Green gram gravy – A taste from Kongunad….
2008 – Ell Urundai – Delicious sesame balls.
Bon Appetit…