Sometimes it is very hard to please the Lil one in the house,especially when it comes to food.With the quarterly holidays starting,she will be at home for another 10 days and each day I have to think of ways and means of pleasing her taste buds.She is easily bored of eating idli or dosa two days in a row.Snacks is another issue that scares me.When ever she is bored she asks for snacks and it is the same as the breakfast or lunch-no repetition.
Today when she was taking her taking her nap, I was breaking my head and pouring over snack ideas.Then I remembered an instant snack that mom used to prepare when I was a kid and immediately set about making it. It hardly takes 10 minutes to prepare this. I was worried about her approval ,if she would like it or not,or what she would say. In case this was rejected, I had to think of a back up snack as well.
As soon as she woke up, she walked into the kitchen to explore the aroma. I held my breath to see her reaction and was so happy when she said – 'Wow mummy,this snack looks super!'.Need I say more?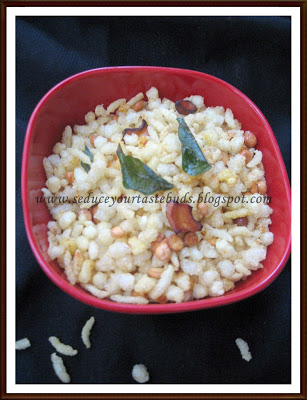 Here is the simple method to make this crunchy snack….
Heat oil for deep frying.
Deep fry 1 cup sago, 1/2 up thick variety poha, 1/4 cup fried channa dal, a handful of broken cashews,a few curry leaves
separately till crunchy.Drain on absorbent paper.
When it cools a bit, add salt and chilli powder.
Toss well and serve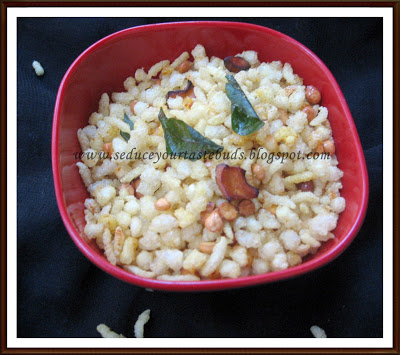 Note:
Take care while deep frying Sago. It splutters a lot.
You can also add a pinch of turmeric powder for color.
Add any masala powder like garam masala / chaat masala for a different flavor
If you lil one likes a little sweetness, add a handful of raisins .
You can also add other nuts like roasted almonds, groundnuts etc.
This can be made ahead and stored in an airtight container once completely cool.
This snack that was loved and appreciated by Lil Angel is off to join Srivalli's Kid's delight 3rd year anniversary party.
Other Sago based dishes that you may like….
Instant Oats Sago Dosa
Oats Sago Adai
Sago Vada
Sago Kichidi
Bon Appetit….